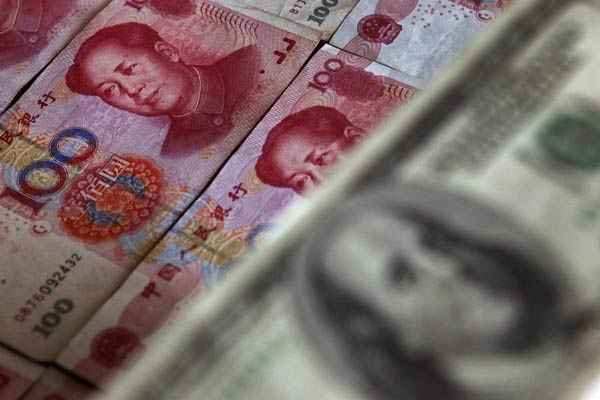 A photo illustration shows a $100 banknote placed above Chinese 100 yuan banknotes in Beijing in this May 10, 2013 file photo. [Photo/Agencies]
NEW YORK - Former US central bank heads on Thursday called the internationalization of the Chinese currency renminbi or the yuan, "a positive thing", saying it will motivate China to further open the market.
Federal Reserve Chair Janet Yellen, and former Fed Chairs Ben Bernanke, Paul Volcker and Alan Greenspan expressed this view when they discussed the US economy and global monetary policy issues at the International House of New York.
Regarding the issue of renminbi internationalization, Greenspan said China has made extraordinary progress and evidences show that the renminbi is getting closer to becoming a floating currency.
However, he pointed out that the total amount of holdings of the renminbi in international reserves is "relatively small," so its internationalization process might still have a long way to go.
Volcker thinks the renminbi becoming an international currency reflects the openness of the Chinese economy. "It's good for the world," he said.
Bernanke believes renminbi internationalization will motivate China to further open its market, reform its financial market, increase liquidity and strengthen regulation, which is "a positive thing.