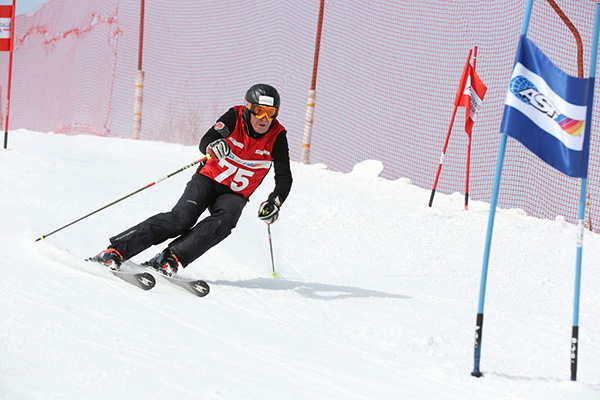 A contestant is racing in the 7th Advantage Austria Ski Race at Zhangjiakou's Genting Resort Secret Garden in Hebei province on Feb 27, 2016. [Photo provided to chinadaily.com.cn]
There has been a surge in skiing enthusiasts in China in recent years as more quality facilities are available, which may catapult the industry to a new darling in outdoors sports activities.
A total of 12.5 million people hit the slopes nationwide last year, up 21.4 percent from a year earlier, a recent industry white paper shows.
Beijing with 23 resorts comes first with 1.7 million skiing enthusiasts in 2015, followed by Northeast China's Heilongjiang and Jilin provinces.
"The industry will certainly keep growing in double digits in the next few years. China didn't even have 10 resorts a decade ago, but now it has more than 500," said Martin Glitz, commercial counselor for China of the Austrian Embassy.
"The growth is enormous...especially in the context of China's economic slowdown amid 'new normal' and restructuring," he told China Daily during a media briefing after the 7th Advantage Austria Ski Race at Zhangjiakou's Genting Resort Secret Garden on Saturday.
The annual charity event, sponsored mainly by AST China and Northland this year, aims to intensify the cooperation between China and Austria in the areas of winter sports and lifestyle. All funds raised will be donated to Rotary Club Beijing this year.
George Zhong, general manager of AST China, said: "We hope to introduce Austrian know-how into China to help boost its winter sports industry and facilitate the industrial structural transformation, especially in the context of the upcoming Olympic Winter Games 2022."
He said the company will further tap the Chinese winter sports industry with bigger investment, in a bid to make the activity safer and more accessible in campuses, communities, parks and shopping malls.
"I think safety is probably even more important (compared to prices). People should be encouraged to skiing, instead of being afraid to be taken to slopes," said Glitz. "There's a huge potential to develop safety in winter sports, particularly in China."
"We have been working closely with Austrian companies - for example the equipment giant Doppelmayr - in many areas, quality facilities and services in particular," said Zhao Qiong, marketing director of the Genting Resort.
The industry is developing much faster than expected, cultivating a huge market along the value chain including outdoor sportswear and other related products, said Kitty Guo from Nanjing B.C. Sports Products Co Ltd that runs Northland products in China.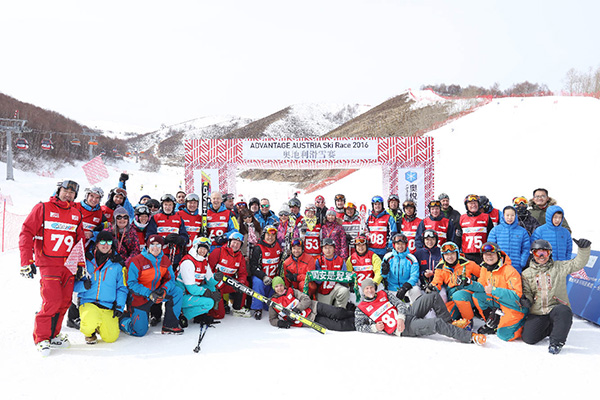 Contestants from home and abroad pose for a picture after the ski race at Zhangjiakou's Genting Resort Secret Garden in Hebei province on Feb 27, 2016. [Photo provided to chinadaily.com.cn]