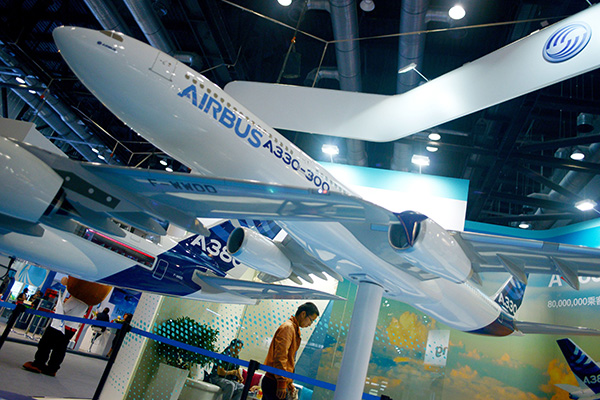 An Airbus A330 model on display at the Beijing International Aviation Expo in September 2015. [Photo/Agencies]
Airbus SAS expects its new China A330 completion center to deliver a jet per month starting in 2017, rising to two per month in the following two years, the firm's China head said on Tuesday.
Airbus China President Eric Chen was speaking to media in Beijing ahead of a groundbreaking ceremony for the center in Tianjin.
Airbus said it expects China's aviation market, the world's second-largest, to come out relatively unscathed from the country's economic slowdown and provide demand for 5,400 new airplanes over the next 20 years.
The European plane maker is also considering boosting its bets on China and is studying if it should increase the production rate at its A320 assembly line in Tianjin, Chen said.
Airbus set up the A320 final assembly line in 2008, which is located adjacent to the new completion and delivery center for the A330 widebody jet.
Airbus, Tianjin Free Trade Zone Investment Co Ltd and Aviation Industry Corp of China signed an agreement in July to build the center in the northern port city. The center will work on assembled A330 aircraft's cabin decoration, painting, test flights and delivery.
Despite China's economic slowdown, aircraft manufacturers like Airbus and Boeing Co remain buoyant about the long-term demand for air travel in the country.
The number of Chinese leisure travelers going overseas topped 100 million in 2014, official data showed. Foreign travel is tipped to grow another 10 percent this year as the United States, France and Australia ease visa policies.
State-owned carriers Air China, China Eastern Airlines, China Southern Airlines and their subsidiaries dominate the Chinese airline market, but they increasingly face stiff competition from the HNA Group subsidiary Hainan Airlines and the budget carrier Spring Airlines.
Aircraft leasing firms owned by Chinese banks and companies are also becoming an important source of airplanes globally.
Collectively, these airlines and leasing firms have placed orders for hundreds of Airbus and Boeing aircraft worth tens of billions of dollars.
Boeing and Commercial Aircraft Corp of China Ltd signed an agreement in September to co-establish a Boeing 737 completion center in China. The center will mark the first time for Boeing to build a production facility outside the US. But no details about its location have been released yet.