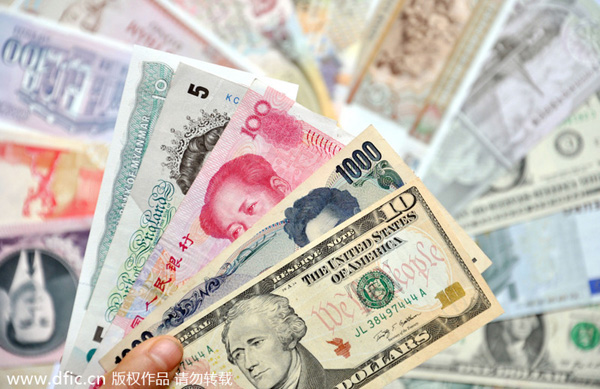 Foreign currencies are placed next to 100 yuan banknote. [Photo/IC]
China should keep its foreign exchange reserves from slipping below $3 trillion, said Li Daokui, an economist at Tsinghua University, reported Xinhua, after it fell to the lowest level in more than three years.
The fall in the forex reserves was mainly caused by short-term investments or even speculative capital flow, said Li at a forum in Beijing on Saturday. He added that renminbi's depreciation could accelerate once the value of the country's forex reserves drop below the psychologically significant $3 trillion.
China's forex reserves posted the sharpest monthly fall on record in December to $3.33 trillion, according to official data. Last year's decline was more than $512 billion.
The reason behind the fall included offshore speculation on the yuan and market expectation that US dollar will appreciate, said the economist.
If the reserve level could stabilize at $3 trillion this year and renminbi exchange rate could stabilize, it will play a significant factor to the soundness of China's real economy and its stock market, said Li.
The central bank should maintain renminbi's exchange stability to a basket of currencies, said the economist, adding that regulators should also manage capital account in a more meticulous manner, banning Chinese firms extracting foreign reserves under the name of bogus investment.