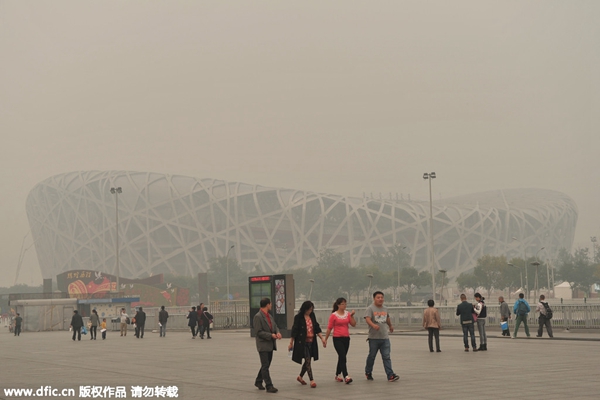 The "Bird's Nest" National Stadium can hardly be seen in severe smog in Beijing in December, 2015. [Photo/IC]
BEIJING - Beijing will shut down 2,500 small and polluting firms in 2016 in its latest environmental protection efforts, said the municipal government.
The Fengtai, Fangshan, Tongzhou and Daxing districts are required to close 2,500 small and polluting enterprises at the end of this year while the whole city will finish the task in 2017.
Structural adjustment in recent years has led to a dramatic fall of heavily polluting and high energy-consuming companies in the Chinese capital. But small polluting sources such as restaurants, hotels, garages, and bath houses are increasing, said an official on Friday.
Vice Mayor Li Shixiang ordered safety and risk assessment and comprehensive law enforcement in closure of small polluters.
Beijing aims to basically eliminate coal use in six downtown districts in two years and help 600,000 households shift from coal to clean energy in five years.
The capital, hit by bouts of heavy smog this winter, plans to reduce coal consumption by 500,000 tons in 2016 and close all coal-fired boilers throughout the city by 2020.
Despite Beijing's effort to limit air pollution, its average PM2.5 reading in 2015 stood at 80.6 micrograms per cubic meter, 1.3 times more than the national standard, official data show.