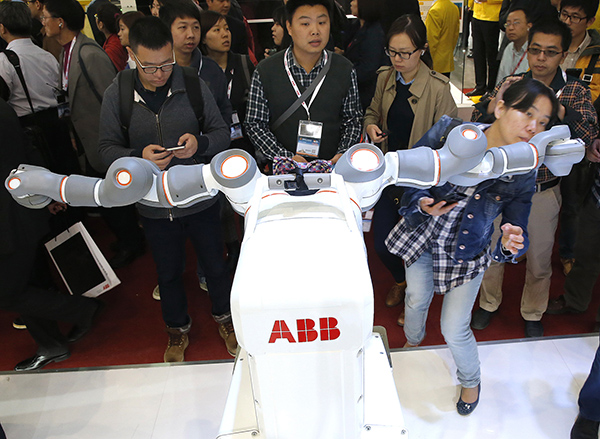 A YuMi robot manufactured by ABB interacts with human beings. [Photo/Xinhua]
ABB Ltd, the Swiss multinational operating mainly in robotics and the power and automation-technology sectors, said it is planning a rapid expansion in China, following strong growth of the country's robotics market.
Ulrich Spiesshofer, its chief executive, predicts China will become the world's largest robotics market, and said he is hoping to position his firm to help with that expansion, especially in the use of robotics to clean up the environment.
Spiesshofer was reacting to the latest world robot statistics, released by the International Federation of Robotics, which showed 57,000 industrial robots were sold last year, a 56 percent increase on 2013.
The report said the Chinese market will be accounting for more than a third of all industrial robots installed worldwide by 2018.
Song Xiaogang, secretary-general of the China Robot Industry Alliance, said the figures underlined just how important robotics will be to the future Chinese economy, especially as other more traditional heavy industries in the country decline.
Spiesshofer said: "If you look at the challenges and opportunities that China has going forward, I think the robot and the human being will need to work hand-in-hand.
"With smart automation, we are elevating the nature of work, so that it is less hazardous and health-threatening, of better quality, and able to achieve stronger productivity."
With those goals firmly in mind, Spiesshofer said tremendous opportunities exist for the company to work on software development here, particularly at its main machine-learning operation in Shanghai and elsewhere in China.
With nearly two decades of experience in the Chinese market in terms of robotics, ABB pioneered robotic applications in food and beverage, metal polishing, palletizing, computer, communication and consumer electronics.
At the 17th China International Industry Fair unveiled in Shanghai on Tuesday, ABB displayed 10 leading robot automation solutions.
The company, he said, would be focused on combining artificial intelligence with robotics, to develop what he called "self-learning machines".
"The software involved is moving from conventional machine control into self-learning machines, and into artificial intelligence.
"This is the area in which we will be investing strongly," he said.
One of ABB's software strengths lies in the accurate programming of robots, exemplified by its latest YuMi robot, which he said can literally "thread a needle".
Software development will play a key role in ABB offering leading-edge services, he said.
For example, with the advent of cloud-based services, where information is made available to customers, ABB can play a central role in China.
"Also, where hardware has to be combined with leading-edge machine-learning capabilities, we can really make a difference during the next phase of China's economic development," he said.