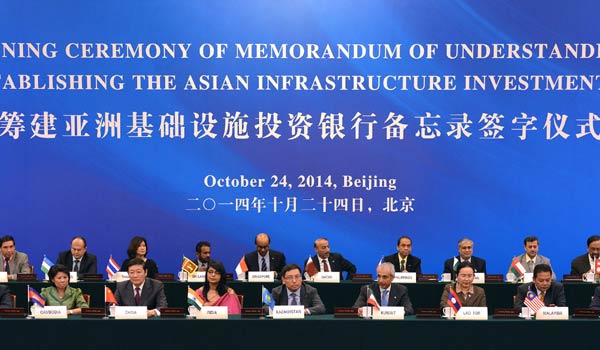 The signing ceremony of memorandum of understanding on establishing the Asian Infrastructure Investment Bank (AIIB) is held in Beijing, Oct 24 2014. [Photo/Xinhua]
BEIJING -- China's top legislature on Wednesday ratified the Asian Infrastructure Investment Bank (AIIB) agreement, which establishes the legal framework for the bank.
Lawmakers voted on the agreement at the closing meeting of the bimonthly session of the National People's Congress (NPC) Standing Committee. The ratification is a significant step closer to the AIIB's formal establishment slated for the end of 2015, as China is the bank's largest shareholder.
The China-backed multilateral development institution is tasked with financing infrastructure construction across Asia.
Among the bank's 57 prospective founding members, 54 had signed the agreement as of last month, and the other three are expected to sign before the end of this year. All prospective members should have their legislatures ratify the agreement before the end of 2016 to formally become founding members.
As long as at least 10 signatories, with capital contribution no less than 50 percent, obtain legislative approvals, the agreement will become effective, Finance Minister Lou Jiwei told lawmakers.
Lou said Myanmar, Singapore and Brunei have received legislative approval, adding China's ratification, with more than 30 percent in capital contribution, is crucial to the bank's timely operations.
The 60-article agreement outlines the financial shares of each founding member as well as rules for policymaking, governance structure, and business and operational systems.
The AIIB will promote sustainable development of the Asian economy, create wealth and improve infrastructure connections, Lou said.
The bank will cooperate with other multilateral and bilateral development organizations to promote regional cooperation and deal with challenges, according to Lou.
The AIIB shows that China is committed to establishing an open, just and transparent international economic governance system, and it will provide a new platform for cooperation among member states, he said.
With authorized capital of $100 billion, the AIIB will invest in sectors including energy, transportation, urban construction and logistics as well as education and healthcare.