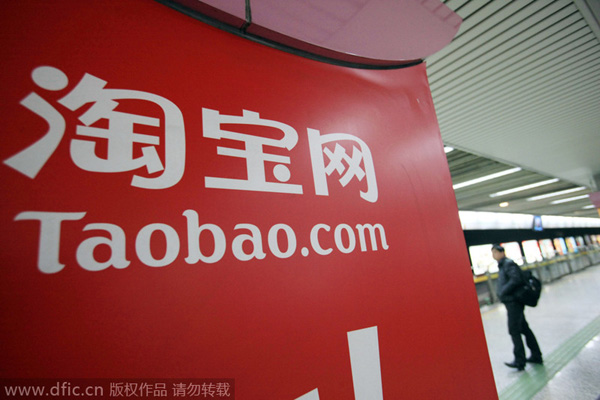 An advertisement for online shopping site Taobao.com of Alibaba Group is seen at a metro station in Shanghai, Nov 12, 2014. [Photo/IC]
More than 1,000 luxury villas and apartments in Portugal are about to come under the virtual hammer on Taobao, a customer-to-customer site owned China's e-commerce giant Alibaba Group Holding Ltd, as the country is gearing up to become the world's largest online auction market this year.
Paimai, the auction site run by Taobao, is expected to launch an online auction on Wednesday for as many as 1,500 high-end villas and apartments in southeastern Portugal, to meet the growing demand from wealthy Chinese individuals for overseas realty investment.
The villas and apartments, with a combined market value of 1.6 billion yuan ($257.6 million), are located in the Algarve, known as one of the finest golf resorts in Portugal. The individual properties that will be auctioned online are valued between 900,000 euros ($975,510) and 1.5 million euros, each with sizes ranging from 231 square meters to 363 sq m.
The e-auction of Portuguese properties marks Paimai's latest development in globalization. Lu Weixing, the general manager who is in charge of Paimai, said that with rapid development of China's online auction market, his site is keen to bring high-quality overseas products to Chinese consumers.
"Overseas realty is a sector that will catch the fancy of online bidders," he said.
Lu said that online auctions are still an emerging sector in China, but the country is moving very fast to overtake the United States and become the world's largest online auction market this year. "The total transaction value of China's online auction sector was less than 100 million yuan in 2012, and we expect that size to surpass 100 billion yuan this year," he said.
Since December 2014, Paimai has brought properties from more than 10 countries under the e-hammer for bidders from China. About 60 percent of the overseas properties, including islands in Fiji, castles in Italy and chateaus in France, have been auctioned off online, according to Lu.
However, he said it is still too early to know whether the Portuguese properties will be well accepted by Chinese buyers due to their diversified tastes.
However, insiders in immigration sectors are more optimistic because investing in properties in European countries, such as Portugal, usually comes with citizenship.
Kevin Yu, vice-president of Beijing Kaisheng Union Exit-Entry Affairs Services Co Ltd, a firm offering immigration-consulting services, said about half of Chinese, who are interested in emmigrating, choose European nations.
"It is relatively easy to get citizenship in European countries, you just need to invest a certain amount of money on properties," Yu said.
Under Portugal's Golden Residence Visa Program, a citizenship can be granted for real estate investments of about 500,000 euros. For properties that are older than 30 years, the investment could be as low as 300,000 euros to gain a citizenship.
According to the Portugal Embassy in China, 2,420 residence permits have been offered from October 2012 to June 2015 under the program, 1,947 out of which are offered to Chinese investors.