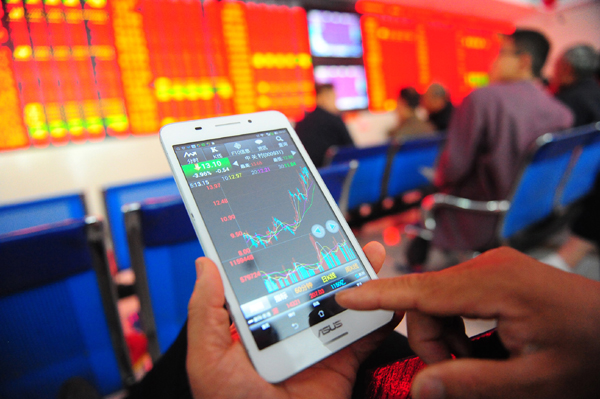 Investors are in front of a screen displaying stock indices and prices of shares at a securities brokerage in Fuyang, East China's Anhui province, Dec 11, 2014. [Asianewsphoto/Wang Biao]
International investors' appetite for China's world-beating stock market seems to be growing despite a surge in market valuations that suggest the risk of a bubble.
The optimism comes from improved domestic liquidity, government policies to prop up the economy as well as the acceleration of capital account liberalization, analysts said.
Vanguard Group, the largest US mutual fund firm with $3.3 trillion in assets under management, has announced that it will add mainland Chinese shares to its $69 billion emerging-market fund.
The Abu Dhabi Investment Authority, a sovereign wealth fund of the United Arab Emirates, has been granted a quota of $1.5 billion to invest in China's A-share market under the Qualified Foreign Institutional Investor program, Chinese newspaper National Business Daily reported.
According to EPFR Global, a provider of fund flow and asset allocation data, Chinese equity funds absorbed more than $4 billion from overseas investors in a single week in May. The amount more than doubled the record seen in the second quarter of 2008.
US bank JP Morgan Chase & Co in May also upgraded Chinese equities to "overweight" with a focus on information technology, insurance, healthcare, banking, real estate and infrastructure construction.
The rising global interest in the A-share market also came as global index provider MSCI is due to announce next week whether it will include the mainland's A-share market in its global benchmarks.
Analysts estimated that the inclusion could initially inject 80 billion to 100 billion yuan ($13 billion to $16 billion), which is small compared with the 2 trillion yuan capitalization of the A-share market.
The benchmark Shanghai Composite Index gained 141 percent in the past year, the best performer among all major global benchmark indexes. The country's startup board ChiNext in Shenzhen also soared nearly 200 percent.
The market frenzy has led to skepticism among some foreign institutional investors over the sustainability of the ongoing bull run.
Morgan Stanley recently downgraded the MSCI China index to equal weight, citing the risk of overvaluation and unsustainable corporate earnings and dividend growth.