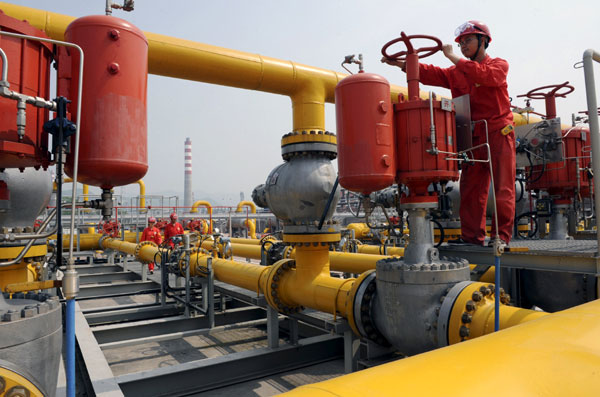 An employee checks on Sinopec natural gas transmission facilities in Xuanhan county, Sichuan province, in this April 29, 2011 file photo.[Photo/Agencies]
BEIJING -- Media reports about possible massive mergers and acquisitions (M&A) of the country's State-owned enterprises (SOEs) are "unverified", authorities said late on Monday.
The Beijing-based Economic Information Daily ran a report quoting an anonymous source early Monday saying massive M&As are expected in Chinese SOEs as the country aims to build industrial giants able to face global competitors.
The news sent the stock market to seven-year high, with the benchmark Shanghai Composite Index jumping 3 percent to close at 4,527.4 points, led by the rally of SOE stocks.
PetroChina, China Petroleum & Chemical Corp, Power Construction Corp of China, China Spacesat Co, Air China and China Ocean Shipping Group all surged by the daily limit of 10 percent on speculation that the government would consider mergers.
"Investigations have found that the news story was written without interviewing or verifying with us," the State-owned Assets Supervision and Administration Commission (SASAC) said in a concise statement.
The SASAC did not make further comments on the reports.
"The SASAC has issued an internal document to promote the process," the source said, estimating the total number of the centrally-administered SOEs will likely be cut by more than half to 40.
On the list were industrial heavyweights including China Petroleum and Chemical Corporation and PetroChina Company, which were reportedly engaged in a merger, though not yet confirmed, to build companies equivalent to Exxon Mobil or BP. Shares of the firms jumped by the 10-percent daily limit on the Shanghai Stock Exchange on Monday.
The SASAC currently administers 112 SOEs, which are parent to 227 listed companies. The combined total market value is more than 10 trillion yuan (1.63 trillion US dollars), around one sixth of the country's GDP. The businesses cover major sectors ranging from energy, military industries to public services.