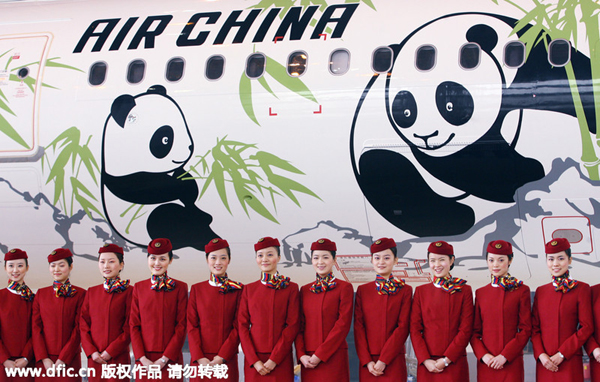 Air stewardess of Air China pose in front of a plane painted with the image of giant pandas at the Shuangliu Airport in Chengdu, southwest China's Sichuan province, Dec, 25, 2008. [Photo/IC]
BEIJING - The profitability of China's major air carriers rebounded in the first quarter of 2015, boosted by surging flight numbers.
China Southern, the country's largest airline by fleet, earned 27.7 billion yuan ($4.5 billion) in operating revenue in the first three months, up 6.81 percent year on year, said a quarterly financial report released on Thursday.
Its balance sheet turned from red to black, with net profits rebounding from 306 million yuan of losses to 1.9 billion yuan of gains, according to the report.
Air China and China Eastern, the other two major carriers, have yet to publish financial results, but they announced last week that preliminary accounting showed their profitability improved significantly.
Air China, the country's flag carrier, expected 1.6 to 1.8 billion yuan in net profits in the first quarter, compared with 93 million yuan in the same period last year.
China Eastern forecast 1.5 to 1.6 billion yuan in net profits, rebounding from 205 million yuan of losses in the first three months of 2014.
The Civil Aviation Administration of China said 104 million trips were made by air in the first quarter, up 12.3 percent from a year earlier.Overseas trips grew sharply by 36 percent to 9.65 million due to booming tourism.
Earlier this week, Tony Tyler, CEO of International Air Transport Association, predicted China will probably overtake the United States to become the world's biggest aviation market in passenger turnover by 2030.