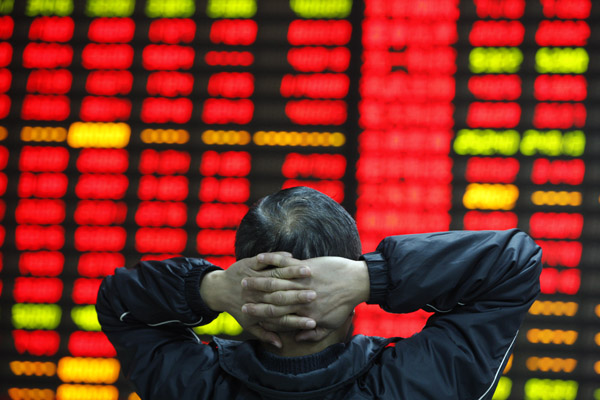 Shareholder keeps an eye on the stock market at a brokerage in Huaibei city, Anhui province on April 10, 2015. [Asianewsphoto by Xie Zhengyi]
BEIJING - Investors will no longer be restricted to only one stock account in China's A-share market and each can have up to 20 accounts from Monday, the managing institution for stock accounts said on Sunday.
The China Securities Depositary and Clearing Co, (CSDC) will introduce more such reforms to encourage investment, said CSDC chairman Zhou Ming.
The reform means investors no longer face complicated procedures if they want to transfer their accounts to other brokerage firms. All they need to do is to open new accounts with other firms and the information will be transferred under a new system launched by the CSDC in October.
Dong Dengxin, head of the finance and securities research institute at Wuhan University of Science and Technology, said this will bring about competition on commission fees as investors will choose brokers with low fees.
The Chinese stock market was bearish for about five years until late 2014. With ample liquidity and confidence in the economy, Shanghai stocks shot up to 4,000 on Wednesday, the highest in nearly seven years.
Currently, the commission fee paid to brokerage firms ranges from 0.03 percent to 0.3 percent of the trading volume.
During the current bullish cycle, there is still room for brokerage firms to lower commission fees due to high turnover rate, Dong said.
The competition will surely become more ferocious and slashing commission fees will be an unavoidable trend, said an account manager with a Beijing-based brokerage firm.
Li Daxiao, chief economist at Yingda Securities, said the new measure has put forward higher requirements on brokers.
"Firms dedicated to safeguarding client interests will benefit in the long term, while those entrapping clients will eventually get penalized by the market," Li said.