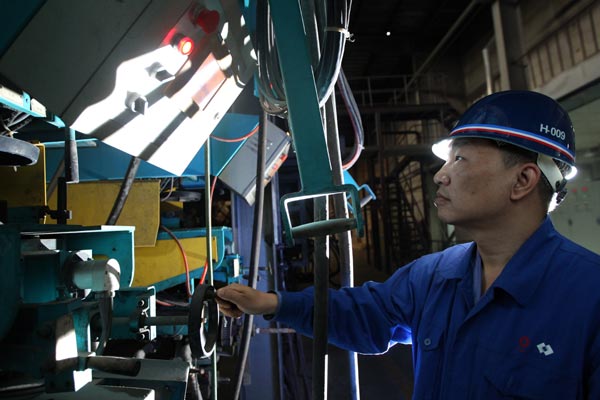 A worker at a glass plant in Luoyang, Henan province. Factories across the country accelerated production after the Chinese Lunar New Year holidays. [Photo/China Daily]
More policy easing will be necessary to stimulate growth in payrolls, say experts
Manufacturing activity rebounded in China during March, as factories accelerated production after the Chinese Lunar New Year holidays, encouraged by further policy easing expectations.
The manufacturing Purchasing Managers Index climbed to 50.1 in March, up from 49.9 in February and 49.8 in January, the National Bureau of Statistics said on Wednesday.
Further indication of the pickup in the sector was evident in the robust sub-indexes with output and market expectations surging to a new high, as the government wielded policy tools to combat the economic slowdown.
Policymakers decided to cut the minimum down payment for second-home buyers on Monday to spur the real estate market, in line with the initiatives announced earlier to boost infrastructure construction investment, efforts to reduce business taxes, and steps to lower the benchmark interest rates.
Zhao Qinghe, an economist at the NBS, said that the manufacturing industry is still facing downward pressure, citing weak new orders and the contraction in exports.
"The post-holiday PMI recovery in March is modest compared with historical data," said Zhao. And this could lead to weaker economic growth in the first quarter of the year, compared with the 7.3 percent growth seen in the fourth quarter of 2014.
The NBS also released the services PMI, showing a slightly weaker reading of 53.7 in March, down from 53.9 in February. According to the official data, employment in both the manufacturing and non-manufacturing sectors continued to contract.
Lian Ping, chief economist at Bank of Communications Ltd, said that the manufacturing industry has been unable to provide enough job opportunities due to the sectoral weakness.
"The services sector must provide the much-needed growth in new jobs," said Lian, who expects the overall economy to rebound in the second quarter of this year.
A separate report jointly released by HSBC Holdings Plc and Markit Ltd showed a manufacturing PMI of 49.6 in March, down from 50.7 in February, back below the neutral level of 50 as the sector continues to struggle to gain growth traction.
Annabel Fiddes, an economist at Markit, said: "The latest data show that domestic and foreign demand remains subdued amid weaker market conditions, which dampened output growth as a result."
She said that employment in the sector continued to decline as many factories resorted to downsizing.
"Despite the sustained fall in the cost burden, any savings were generally passed on to clients as part of attempts to attract new business, suggesting a further squeeze on profit margins," said Fiddes.
Tom Orlik, chief North Asia economist of Bloomberg, expected the central bank to further cut interest rates and reserve requirement ratio in the second quarter to stabilize growth and ensure job growth.
"The combination of slowing growth and tight policy is not sustainable," he said. "The first-quarter GDP data, slated for publication in mid-April, could be the catalyst for further action."