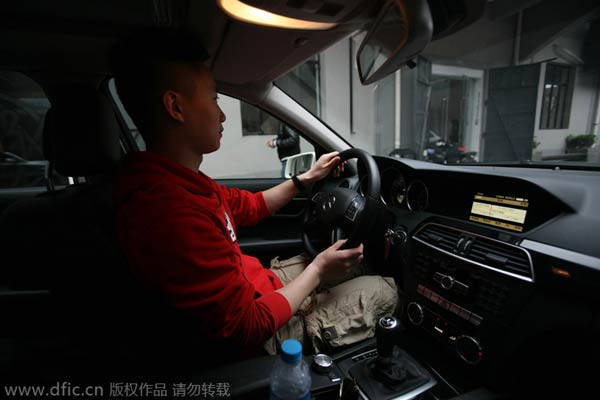 A young Chinese car owner drives his Mercedes-Benz car in Shanghai, China, March 20, 2013. [Photo/IC]
Young, rich and hungry for speed, a new generation of Chinese drivers is reshaping the global market with their taste for powerful cars, said a new study released on Wednesday.
Asia and particularly China, the world's second-largest economy, have long been a key market for global automobile manufacturers as they seek to make up for weak demand in the US and Europe.
But a study of 14 countries by French think-tank Cetelem found that Chinese consumers were also set apart by their attitudes toward cars, which wealthy young buyers see as an important status symbol.
"Ninety-four percent of Chinese told us that a car is a sign of modernity," Cetelem head Flavien Neuvy said a week ahead of a major industry conference in Paris.
Chinese buyers see power and safety as the most important factors for choosing a vehicle, he said. In contrast, in 12 of the 13 other countries surveyed, buyers looked first at the price of a car and then at its fuel consumption.
Already the world's largest car market, China has become a key focus for major brands such as US giant General Motors and Germany's Volkswagen, which dominate the market through local partnerships.
Low ownership rates of around 69 cars per 1,000 people, compared to 770 per 1,000 in the United States, the world's No 2 market, also mean it is set to be a key driver for growth in the coming decade.
"In 2005, they were 17 per 1000 and by 2020, they will be 184. In 15 years, they have multiplied the pool per capita by 10," said Neuvy.
"The potential is considerable for all emerging markets, which is good news for all manufacturers."
China's car buyers are also much younger than in other countries - on average 35, compared to 52 in the US and 54 in France - and much less likely to be "patriotic" in their tastes.
Whereas more than half of drivers in auto manufacturing hubs such as France and Germany prefer national brands, rising to 94 percent in Japan, in China only around a quarter of buyers shop at home.