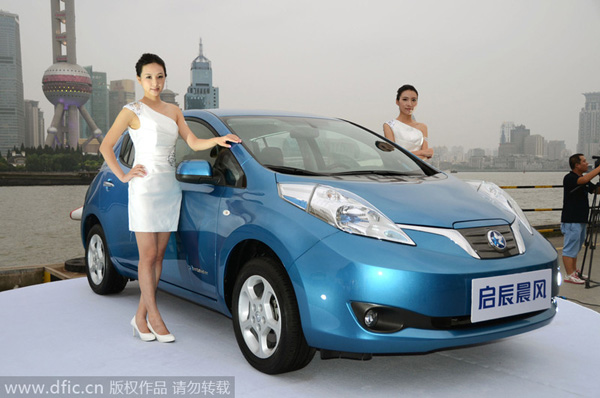 Models stand by the Vanucia e30, a five-seater hatchback electric car developed by a joint venture between Japan's Nissan Motor Co and China's Dongfeng Motor Co, during a presentation in Shanghai, Sept 10, 2014. [Photo/IC]
DALIAN - Dongfeng Nissan Passenger Vehicle Company, a joint venture between Japanese automaker Nissan and its Chinese counterpart Dongfeng Motors Corporation, launched its first electric car in the northeastern city of Dalian on Wednesday.
The pure-electric vehicle model, e30, from its local Venucia brand in China, was put on sale at a price starting from 267,800 yuan ($43,545).
With a 47,500-yuan subsidy from the central government and a 100,000-yuan subsidy from the Dalian municipal government, local residents can buy the car for 120,000 yuan.
The vehicle has a maximum speed of 144 km per hour and a range of 175 km per charge.
Customers who buy the vehicle this year will enjoy free installation of recharging facilities.
There are expected to be 5,000 new-energy vehicles on Dalian's roads by the end of 2015, including 3,600 applied in the public sector, according to the municipal government.
Chinese automakers are competing to introduce electric vehicles into the market with strong government impetus. Local firm Lifan launched an affordable electric car earlier this month with prices starting at 43,800 yuan, 6 percent of the cost of the Tesla Model S.
China is giving policy support, including tax exemptions, to new-energy vehicles to save energy and combat pollution. There are price subsidies and requirements for government departments to buy more new-energy cars.
New-energy cars have been exempt from a 10-percent purchase tax since Sept 1. The tax break will remain in force till the end of 2017.