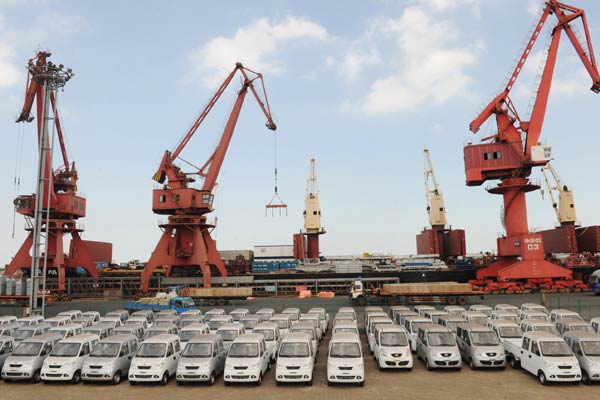 Utility vans for export at Lianyungang port in Jiangsu province. About 80 million vehicles will be sold in Latin America and Asia from 2013 to 2020. GENG YUHE/CHINA DAILY
Demand from BRICS nations to keep growth momentum ticking
Emerging economies, especially China, will be the largest market for light vehicles in the next five to 10 years, according to a report from IHS Automotive Consulting.
The report projects that the Chinese market will account for about 30 percent of vehicles sold globally in 2020, a surge from 23 percent in 2012.
It is a stark contrast to mature markets like Europe and the US.
The US share of the world market is expected to shrink from 26 percent in 2005 to 15 percent in 2020.
In addition to China, sales in other BRICS countries are also expected to rise significantly. Numbers in Brazil and India will double or even triple and each will account for 5 or 6 percent of the world market by 2020, the report said.
The report estimated that sales in 15 countries in Asia and Latin America will total 80 million units from 2013 to 2020.
In response, many automakers will build plants in countries with emerging economies where they will produce at least 50 percent of their output by 2020.
Japanese automakers will see the most noticeable change, according to the report.
In 2012, about 37 percent of Toyota vehicles were made in new economies, a figure that will rise to 47 percent in 2020.
Honda is estimated to make an even bigger stride. Half of its vehicles will be made in new economies by then, up from just 30 percent two years ago.
Luxury automakers are making the trend more obvious, wrote the report's author Lin Huaibin, citing the Chinese market as an example.
"Most luxury cars sold in China - be they BMW, Benz or Audi - used to be imported. As the Chinese market became more important, they now have local production."
He said around half of luxury cars sold in China are now made in the country and the percentage will grow to about 70 percent in 2025.
In addition to assembly plants, many automakers are relocating R&D centers from developed countries, such as the one Infiniti set up in Shanghai last year.
"More importantly, the centers not only design and develop models for the Chinese market but also for customers in other countries," said Lin.