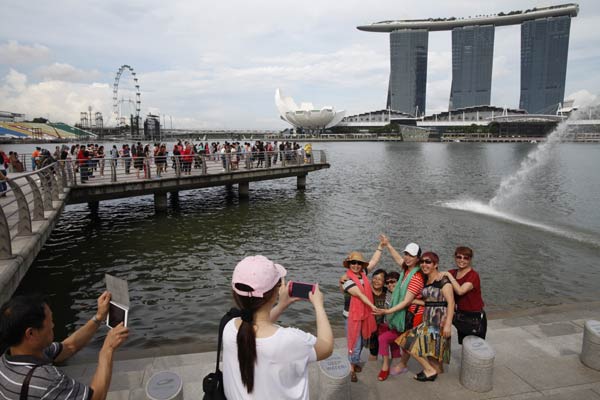 Chinese tourists pose for photographs in front of the Marina Bay Sands casino and hotel in the central business district of Singapore in May. EDGAR SU/REUTERS
China's biggest online travel agency is offering a 30 percent discount on trips to Southeast Asia's beaches and malls. The Chinese are not buying it.
"Singapore, Malaysia and Thailand are traditionally the favorite tourism routes for the Chinese," said Jiang Haibin, a public affairs manager at Ctrip.com International Ltd. "This year, that route was affected a lot."
Chinese travelers have been deterred by political violence and the mysterious disappearance almost six months ago of a Malaysian aircraft bound for Beijing. Territorial skirmishes with the Philippines and Vietnam have also hurt relations, while Singapore, a transit hub and stopover for those traveling around in the region, said arrivals from China dropped 30 percent in the first six months of the year.
Visitors from China made up 10 percent of all arrivals to the region in 2012, so the decline is a threat to an industry that employs millions in Southeast Asia and contributes billions of dollars to the region's gross domestic product.
Chinese travelers have been the fastest-growing tourism market for the 10-member Association of Southeast Asian Nations, accounting for the majority of the increase over the past decade, according to Chua Hak Bin, an economist at Bank of America Merrill Lynch.
The economic relationship between China and Southeast Asia extends beyond tourism to trade and investment. China was the largest trading partner of ASEAN last year, with the bloc importing more from the region's largest economy than it exported to it.
For Malaysia, the impact of the March 8 disappearance of Flight 370 has been compounded by the kidnapping of Chinese nationals visiting and working in the country. Malaysia's tourist arrivals from China dropped 32 percent in May from a year earlier, after a 20 percent decline in April.
Thailand attracted 342,547 visitors from China in July, a 25 percent drop from the same period a year earlier, according to data from the Ministry of Tourism and Sports. Travelers from China accounted for 18 percent of total visitors to Thailand that month, compared with 21 percent a year earlier.
The decline in visitors since the army seized power in a May 22 coup has been more severe in the capital city of Bangkok. In the first seven months of the year, the number of travelers from China visiting Bangkok fell 35 percent, compared with a 21 percent drop nationwide.
"The Malaysia's air disasters and Thailand's military coup are probably temporary factors that will dissipate over time," said Chua. "Longer-term, ASEAN tourism remains bright despite recent setbacks, boosted by affordable air travel, increasing connectivity, a growing middle class, and a rising and more affluent China."
Southeast Asia's loss has been Japan's gain. Visitors from China doubled in July from a year earlier, and more are heading to Australia, the United States and Italy, tourism data show.
Thailand's hotel revenue per available room fell 15 percent in July, while Malaysia's declined 11 percent, according to Bloomberg Intelligence, citing Smith Travel Research. In contrast, Tokyo's climbed 9 percent.
Ties between China and Vietnam cooled after a Chinese oil rig was placed in the South China Sea in May. It led to deadly anti-Chinese riots in Vietnam, where protesters damaged factories and halted production lines.
Chinese visitors accounted for more than 20 percent of Vietnam's tourist arrivals in July, even as their numbers dropped by 29 percent compared with a year earlier, according to the General Statistics Office in Hanoi.