Banks told not to lend to projects in five sectors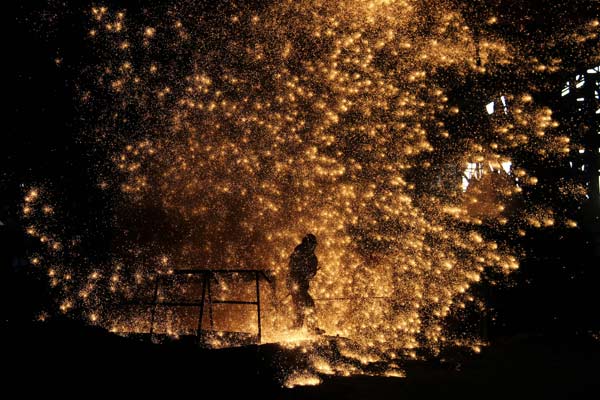 Workers labor at an iron and steel company in Laiwu, Shandong province. The industry is burdened with excess capacity, and it's losing money. The central government has announced measures to cut the sector's capacity and improve its efficiency. Xu Hongxing / For China Daily
China's central ministries on Monday sent a stern message about the implementation of a key State Council document aimed at tackling excess industrial capacity.
The ministries underscored the increasing urgency of containing the risks of the longstanding issue.
In a video conference, officials from the National Development and Reform Commission and the Ministry of Industry and Information Technology, the two bodies with primary responsibility for the problem, urged local governments to implement a directive from the State Council, which is the country's cabinet.
"Local governments will be held accountable on this issue. Those who still violate discipline will be heavily punished. Officials should not bet on infringement without exposure," Hu Zucai, deputy director of the NDRC, said during the meeting.
On Oct 15, the State Council issued "guiding opinions" on solving the capacity issue. The document ordered a halt to the construction of new capacity in sectors burdened by excess production facilities.
The council also said that projects on which construction hadn't yet started should be canceled. Projects that were under construction at that point are to be halted unless they receive central government approval.
The document singled out five sectors — steel, flat glass, cement, electrolytic aluminum and shipbuilding — as having severe excess capacity, and it listed specific measures for each industry.
According to official data, the cement industry had the lowest capacity utilization rate, which was 71.9 percent at the end of 2012.
The rate for steel was 72 percent, while that for the glass industry was 73.1 percent.
A capacity utilization rate of 70 to 75 percent is regarded as a sign of "medium-level" excess capacity in manufacturing.