China's fiscal revenue rises 6.1% in April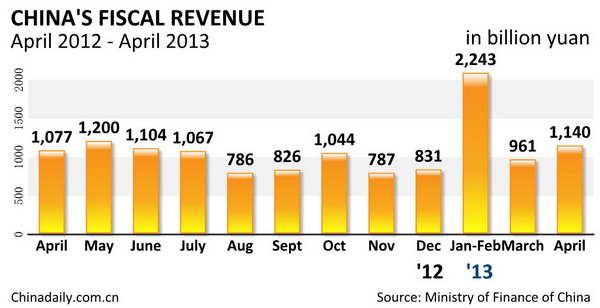 BEIJING - China's fiscal revenue continued a trend of slow growth in April partly due to tempered economic growth and the country's tax cut policies, according to official data released on Monday.
Total fiscal revenue grew 6.1 percent year on year to 1.14 trillion yuan ($183.66 billion) in April, the Ministry of Finance (MOF) said in a statement posted on its website.
The growth rate was down from the 6.9 percent growth seen in last April and stayed at the same level as that recorded in March, the data showed.

The central government's fiscal revenue dropped by 2.2 percent year on year to 535.7 billion yuan due to the slight growth of corporate income tax, a decline in import-related taxes, as well as the high base number of last April, the statement said.
It added that local governments saw fiscal revenue expand 14.7 percent last month to 607.4 billion yuan on the back of sharp increases in housing transactions that drove up local tax revenues.