China's retail sales up 12.8% in April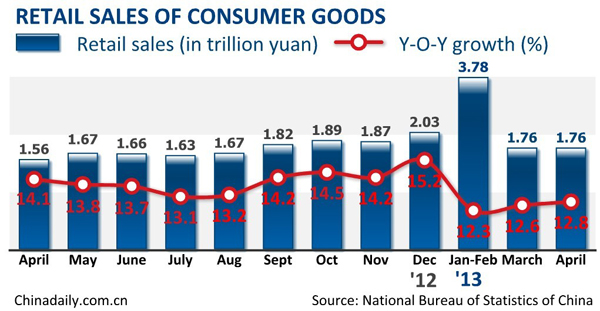 BEIJING - China's retail sales growth slightly accelerated in April but was still below the government's target for 2013, data from the National Bureau of Statistics showed Monday.
Retail sales grew 12.8 percent year-on-year to 1.76 trillion yuan ($283.4 billion) in April, picking up from the 12.6-percent rise seen in March, the NBS said in an online statement.
The growth was slower than the 14.5-percent target the government expects for the full year.
In breakdown, the catering sector reported a 7.9 percent year-on-year rise in revenues, slowing from 8.7 percent in March.

Notably, revenues of catering businesses above a designated size continued to see year-on-year drop, down 2.8 percent in April, following the central government's anti-extravagance drive that has buffeted high-end dining.
After being adjusted for inflation, retail sales went up 11.8 percent in April.
After years of rapid growth generated by investment and exports, China has been looking to shift the focus of its economy to consumption to boost growth.
Last year, consumption contributed to about 51.8 percent of China's GDP growth, while fixed-asset investment helped drive around 50.4 percent. Exports took up a negative 2.2 percent, the NBS data showed.