Retooling the car repair market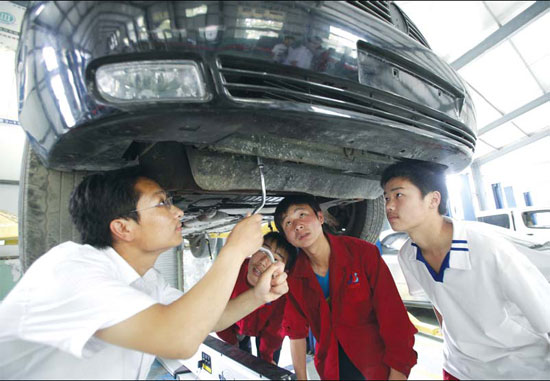 Survey found consumers think costs "not transparent" at authorized outlets. [Zheng Tao / For China Daily]
Independents challenge dealers in pricing, services
In another sign that China's auto market is maturing, a growing number of independent repair shops are posing a challenge to the dominance of authorized dealerships.
A recent survey by automotive news website Gasgoo found that just half of car owners now use dealer shops after auto warranties expire.
The survey also found that only 15 percent of cars older than eight years are serviced at authorized outlets.
More experienced customers often prefer independent repair shops, saying they offer equally good or even better parts and services than dealers at a much lower price.
Car detailing and customization are also lucrative revenue streams for independent shops.
China's auto repair and maintenance market is expected to generate 700 billion yuan yearly by 2015, said the survey.
While more than 90 percent of owners use dealerships to maintain vehicles during the warranty period, the majority voice concerns over expensive, non-transparent charges.
Some 92 percent of respondents agreed that "repair and maintenance prices at a dealership are exceedingly high", while 70 percent thought "charges are not transparent".
Other complaints include long waits and long distances from owners' homes.
Weekly Report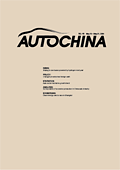 Cost effective
Further fueling independent operations is the low cost threshold for repair shops, which in turn means lower prices for consumers.
Global auto component company ACDelco has more than 100 franchised shops in China. In Beijing alone, it has 48 outlets.
The company's website said it costs only 400,000 yuan to 500,000 yuan to buy a franchise. An authorized dealership can cost up to 100 million yuan.
Audio company Bose has just opened its own supply center in China offering all its automotive products, said its China operations President Chen Yudong.
Chen said prices of components and services at the center are at least 10 percent lower than at an auto dealership.
He added that Bose now has more than 1,000 franchises in China, a number it projects will double by 2015.
In addition to foreign brands, domestic companies are also well aware of the potential.
Zhang Ruizhan, CEO of car repair chain New Focus, told reporters in late February that the company will invest 200 million yuan over the next two years to expand its number of outlets to 300.
He said New Focus has also established direct supply links with tire maker Michelin and engine oil company Castrol, which enables it to offer prices 20 to 30 percent lower than authorized dealers.
Another example is repair chain Haokuaisheng - which means "good, fast and cheap" - founded in 2011 by Yu Hongbo, former deputy sales manager of FAW Mazda, in the southern city of Guangzhou. Now it has 10 shops in the city.
Yu said he chose Guangzhou because its auto market is already mature. The city at the frontier of China's opening and reform got an early start in private car ownership.
Now many residents are driving their second or third car and have more experience maintaining their vehicles, he noted.
xuxiao@chinadaily.com.cn
For more subscription details ofAutoChina, please visit our E-Shop.