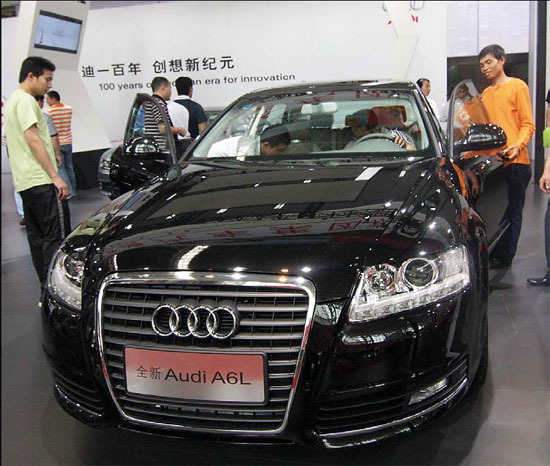 An Audi A6L executive sedan on display at an auto show in Hunan province. The model remained Audi's best seller in China with more than 132,000 units delivered last year. [Provided to China Daily]
Yet another year of record sales and top segment share
Related publication: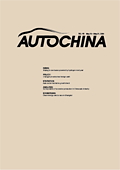 German automakers continued their reign in China's luxury car market last year, again reporting record sales to consolidate a dominance that is unlikely to be challenged in foreseeable future.
Audi, long the top luxury carmaker in China, sold more than 400,000 vehicles last year, up 30 percent from 2011. About 80 percent of its sales were locally made A4L, A6L and Q5 models.
The new A6L executive sedan remained its best seller in China with more than 132,000 units delivered last year, followed by more than 100,000 A4L cars and nearly 90,000 Q5 SUVs.
BMW Group ranked second in the luxury market with 326,444 cars delivered, a 40 percent rise from 2011. Its sales included 303,169 BMW cars and 23,275 MINI vehicles. Both brands set new records.
The carmaker's top three sellers are the BMW 5 Series, 3 Series and the X1, all produced at the company's joint venture in Shenyang.
Some 107,800 BMW 5 Series sedans were sold last year, about a third of the automaker's total in the country, becoming the first BMW model to break through the 100,000-unit benchmark.
Mercedes-Benz, the third-largest premium carmaker in sales, tallied 206,150 units in China last year, also a record high. But its annual growth rate was just 4 percent, far lower than its rivals, mainly due to difficulties in its sales channels.
That hurdle is expected to be cleared with a new joint venture at its partnership with Beijing Automotive formed in December to unify sales management for both imported and locally produced products.
China's luxury car sales increased about 18 percent to 1.2 million units last year. German companies together accounted for three-quarters of the total.
While German luxury brands continued their scorching pace, Lexus - once an up-and-coming contender - failed to meet its sales goal last year, partly due to fallout over the Diaoyu Islands dispute with Japan.
At the beginning of 2012, the luxury unit of Toyota vowed to push sales to 80,000 units with an array of new models. But it finished the year with 64,000 units sold.
Analysts said the brand's lack of local production meant it missed the high-growth period in China's luxury car market and also missed the opportunity to enter the "top echelon" of premium brands in the country.
Jaguar Land Rover took fourth place. With solely imports, the British carmaker sold more than 73,000 vehicles in China last year. But the distance to the top three remained big.
Moves to localize
The company is preparing to start local production, but the facility won't be ready until 2014.
Volvo and Cadillac are also accelerating plans for local production to stay competitive.
Volvo sold nearly 42,000 vehicles in China last year, an 11 percent decline from a year earlier. The company plans to make a comeback this year to achieve a 20 percent increase in sales.
"For quite some time, the dominant position of the three German companies will not be challenged as they continue to aggressively expand production capacity and sales networks in China," said Lin Huaibin, an analyst with consultancy IHS Automotive.
IHS forecasts that China's luxury car market will continue to grow at a double-digit annual rate over the next five years, Lin said. The industry analyst firm expects China's luxury car sales to increase about 17 percent to 1.43 million units this year.
"The high growth of 2010 and 2011 is unlikely to be repeated," he said. China's luxury car sales surged by 70 percent in 2010 and by 34 percent in 2011.
Yale Zhang, managing director of consultancy Automotive Foresight (Shanghai) Co, shares that view, forecasting the market will maintain growth between 10 to 20 percent every year in the next five years.
"The luxury car market in China still has huge potential in the mid and long term", he said.
"Two ongoing trends in the market can explain why - people's incomes are increasing and the prices of luxury cars are decreasing," he said.
Both Lin and Zhang noted that the prices of luxury vehicles will continue fall in China as more products are produced locally and competition becomes more intense.
hantianyang@chinadaily.com.cn
For more subscription details ofAutoChina, please visit our E-Shop.