More and more roaring sports car engines are heard in the Chinese capital Beijing. A sign of conspicuous wealth and of a drive to cash into the luxury car market. The high spending on premium cars is also reflected by one investor's automotive empire in Beijing.
This is the playground for many of Beijing's nouveaux riches. To hire the track costs 5,000 yuan ($802.64) an hour on a weekday, and 8,000 yuan on a weekend. A racing circuit to showcase flashy sport cars and test the horse power.
"This is the very first time that I'm sitting in a Ferrari here in China. It belongs to Mr Ye, who owns the Goldenport Motorpark here in Beijing. It is a little bit freezing out here today, but in the warmer season this is a place where top races are taking place," CCTV reporter Martina Fuchs said.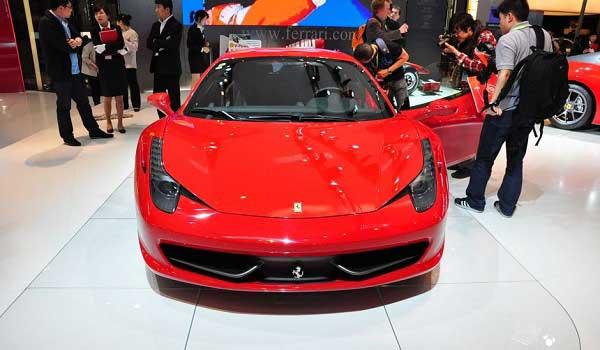 More and more roaring sports car engines are heard in the Chinese capital Beijing. A sign of conspicuous wealth and of a drive to cash into the luxury car market. [Photo/cntv.cn]
The Goldenport Motorpark circuit was opened in 2011 and is 2.4 kilometers long. Its most glorious moment has so far been to host the 2011 FIA GT1 World Championship.
And it has also been considered as a potential location for China's first Formula 1 track.
Jim Ming Qin Ye, Chiarman and CEO of Goldenport Holding, said, "Last year, GT1 was successfully held here in the motor park Beijing. It is a very fun racing. Of course we did a lot of races for the last ten years. Asia formula of speed, CCC, and international and regional and national racings are held here."
Mr Ye studied overseas and holds a Canadian passport. He returned to China in the mid-1980s, and had the dream to build up the motorsport infrastructure in the country.
Today, he is a successful developer and investor in several motor parks.
The appetite for the fast and furious has led to strong demand for luxury cars, despite China's decelerating growth rate this year.
Jim Ming Qin Ye, said, "The demand is still very high, because there is too much money in circulation. So luxury products can help resolve the currencies so that they will reduce the inflation. And secondly, luxury products are taxed very heavily by the government, so it helps the government raise a lot of tax."
The Goldenport Motorpark is also home to more than 80 dealerships and garages. It boasts the likes of Ferrari, Maserati, or Porsche among its residents.
One of them is luxury carmaker Jaguar Land Rover.
Charles Zong, General Manager, Jaguar Land Rover Beijing, said, "In the first ten months of this year, the sales of Jaguar Land Rover reached more than 58,000 vehicles and are up 82 percent year-on-year. The development is very, very rapid."
Sales of high-end cars have surged in China since 2010 thanks to strong demand from the growing ranks of millionaires. While Europe continues to be in the doldrums and the US economy struggling, China is becoming a profit driver for luxury automakers.
Edward Tes, Chiarman for Greater China, Booz & Company, said, "Business really has been picking up very well. My expectations for the rest of the year and for next year is that sales of luxury cars will continue to be very strong."
But the slowdown effects of the world's second-largest economy this year have started to make themselves felt, and some say this might prompt China's elite to switch to a lower gear.