Strong local partnerships vital to help cross the cultural divide
It is a long-held myth that when fast-food chain KFC arrived in China and translated its signature "finger-lickin' good" slogan it ended up actually telling customers to "eat their own fingers".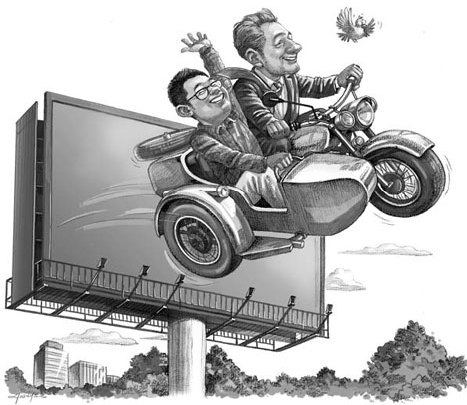 Foreign advertising agencies find opportunities aplenty in China's fast-changing landscape. [Photo/China Daily] 
It is an advertising pitfall often cited as a warning to Western brands wanting to launch their products in the world's fastest-growing consumer market.
Catchphrases lost in translation are just one obstacle faced by advertisers trying to help businesses carry their corporate message across oceans, but for those willing to take the risk, the possibilities are endless in a market where revenues have reached an excess of 343 billion yuan ($54.6 billion).
"You can't have stars in your eyes when you come to China - you have to come here very cool-headed, with a keen eye and you need to make sure you have the right resources within your agency to succeed," said Tom Doctoroff, CEO in China for the US-based advertising firm JWT and author of What Chinese Consumers Want.
As Chinese are set to make up the largest population of consumers globally by 2015, foreign advertising firms are racing to establish or consolidate a foothold in China's fast developing advertising market by acquiring local firms to help cross the cultural divide.
Advertising sales have seen a jump of more than 1,000 percent in a little more than two decades with estimated sales of 120 million yuan when the industry was first established in the early 1980s, soaring to 234 billion yuan in 2010, according to a report by China-focused investment banking and asset management company My Decker Capital, released earlier this year.
Currently, the industry is enjoying an annual growth rate of about 15 percent - more than twice the rate of China's GDP.
Veteran ad gurus say foreign advertising agencies must forge strong local partnerships in the changing landscape of advertising.
Experts suggest brands must learn to judiciously use a combination of digital and traditional media platforms to succeed in China, and to navigating the maze. Foreign advertising agencies must forge closer understanding of local business culture to stay in the game.
Still, the advertising landscape is quite young and the numbers are often hard to pin down.
"In many ways the Chinese market is still quite unsophisticated," Doctoroff said.
With local advertising companies working in TV, print and digital media often using their connections to get discounts on advertisements, it is hard to tell exactly how much actual money the advertising industry is worth, he said.
But one thing is certain - the industry is growing fast and opportunities for foreign firms are flourishing.
While foreign advertising firms traditionally catered to multinational corporations and China's largest companies seek to tap into Chinese consumers' penchant for buying foreign brands, an increasing number of domestic businesses are turning to the Big Six advertising agencies to take their brands global.