The voices of reason
Share - WeChat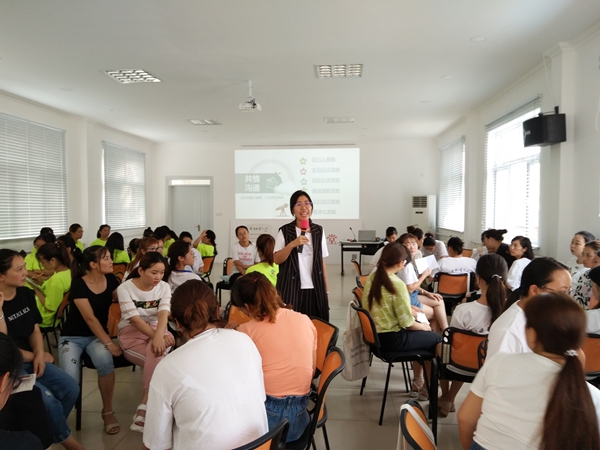 Hardworking counselors all over the country offer a lifeline to people in mental and emotional distress, Wang Qian reports.
Mental health service hotline operator Su Wei will never forget a call he received from a woman in Wuhan, Hubei province, when the city was mired in the battle against the first COVID-19 outbreak.
He was one of the nearly 100 counselors around the country working for the 12355 hotline specifically assigned to offer support and address the psychological needs of people in Wuhan during the peak of the outbreak in early 2020.
Besides working as a counselor, he is also in charge of the operation of the 12355 Beijing service program.
It was around midnight, and when he picked up the phone, he could hear the sound of wind.
"It was a woman in her late 20s. She said that she was on top of a makeshift hospital and she could not get hold of herself," Su recalls.
"She, her husband and their child had been separated and were in three different places. Although calling each other every day and knowing they were fine, she still worried about them. What's worse, she suffered from depression, but there was no medicine," the 47-year-old counselor says, adding that he could feel her desperation.
Trying to keep his tone even, as if chatting with an old friend, Su began to ask her about her living environment and whether there were volunteers to help. The woman said that the environment was not good, but every volunteer had been kind and nice to her, even though they were overworked and exhausted, with the volume of patients far outweighing the staff capacity.
"Talking about the surrounding environment and the kindness given to her by the people around her was the turning point. Her focus was transformed from her own desperation to the present moment, which helped her find motivation and meaning in life," Su says, adding that all he wanted to do on the call was to keep her connected as long as possible, until someone found her.
"I told her that there were numerous people across the country like me who cared about people in Wuhan and she was not alone. I promised that, after the call, I would contact local authorities as soon as possible to get the medicine she needed," he says.
Upon hearing other people's voices and a door opening over the phone, Su felt relieved, knowing that his strategy had worked. It was a volunteer coming to the roof to look for her, because she was not in bed.
"When she told me she was sorry and had to hang up, I was quite happy, not because of what I did, but because the call helped her realize there were many people ready to help and support her," Su says, smiling.
The World Health Organization estimates that 54 million people in China suffer from depression, and about 41 million suffer from anxiety. The COVID-19 outbreak has exacerbated the situation.
While a number of nationwide online mental health services have been established since the start of the pandemic, 12355 is a hotline that was set up by the Communist Youth League of China in the early 2000s. It has thousands of counselors, like Su, available to offer those in need timely mental health support.
From Jan 13 to May 16, the Beijing hotline alone received more than 5,400 calls, with more than 100 calls a day at the peak, according to Su. The center has about 60 operators. It usually provides free hotline services from 9 am to 5 pm, seven days a week.
"As a hotline counselor, our work is to provide hope and encouragement to callers," Su says.
Most Popular