A mind to succeed
Share - WeChat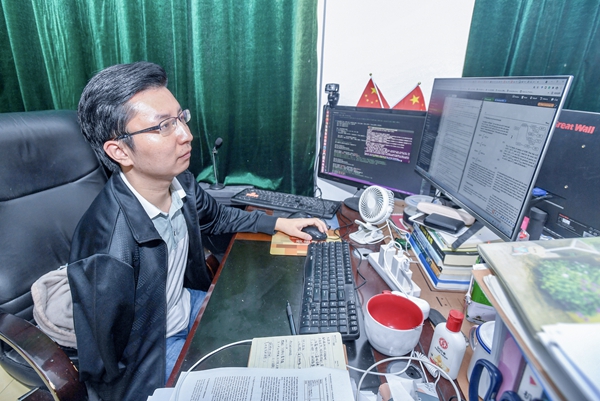 Researcher Yuan Xin learned from a young age that to make a difference, he would need his brain to do the heavy lifting, Yang Feiyue reports.
A childhood accident cost Yuan Xin his right arm.
Yet, the 27-year-old from a small village in Xianning city, Central China's Hubei province, has taken it in his stride and never looked back.
"It was fate's joke on me," Yuan says.
If anything, the loss was converted into an inexhaustible source of motivation, helping him roll with life's punches and shoot for the stars.
With his remaining hand, Yuan has come up with ingenious designs and patents that have earned him more than 60 prizes and awards that are envy of his peers.
"One of the most unforgettable experiences is winning second prize at the Challenge Cup in 2019," says Yuan, who is now pursuing his doctoral degree in computer science at the Wuhan University of Science and Technology.
The Challenge Cup contest was initiated in 1989 and is reputed among Chinese college students as being the Olympics of science and technology.
Yuan's entry focused on the development of a shipborne water cannon that integrates computer-enhanced vision, artificial intelligence and object detection, all of which falls under his field of expertise.
"I settled on it as the project for the competition after I found existing water cannons at the time mostly relied on manual force," he says.
Water cannons are mostly used for targeting and expelling illegitimate fishing boats.
"If we could deliver automatic monitoring and response, a great deal of labor would be saved," Yuan says, adding that it would also enable sharper observation and more efficient control of nautical crime, especially at night.
His idea was adopted by his classmates, and they formed a team of eight for the competition. Yuan was elected the team leader.
They got down to work on the programing and design and took it to a water cannon plant in Jiangsu province and a shipyard in Guangdong province to test and debug their automatic operating system.
"We had to make sure our auto system fit with a real-life cannon and ship, and took into account the wind fluctuation and other factors that would affect the operation of the water cannon," Yuan explains.
"So the field experiment was indispensable."
The preparation lasted for more than a year, and, after much trial and error, Yuan's project eventually succeeded. It managed to offer real-time monitoring, as well as constant ship tracking, alarm and strike capabilities.
The work by Yuan and his team won approval from the judges at the Challenge Cup for its viable operation and big future potential.
The auto water cannon system has since been applied in some regions of the country.
"The whole process was challenging but fulfilling," Yuan says.
It is one of the many similar experiences that have enriched Yuan's life and spurred him onward.
Yuan doesn't remember exactly what happened to him at 3 years old.
According to the accounts of Yuan's parents, he was walking behind his mother who was carrying a load of laundry to wash at a local river across a street, when a truck suddenly came around the corner and headed straight toward him.
Most Popular