Australian leader should not pander to anti-China bias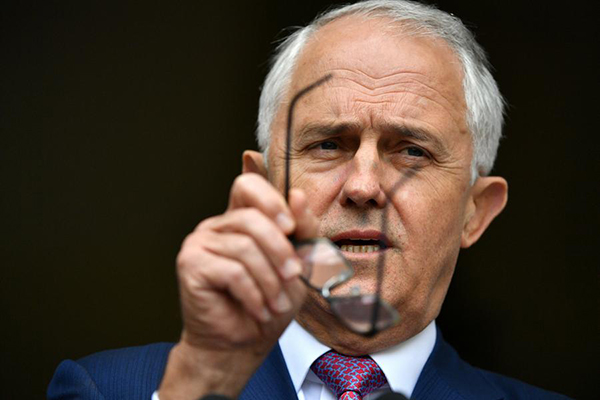 Australia's Prime Minister Malcolm Turnbull speaks during a news conference at Parliament House in Canberra, Australia December 5, 2017. [Photo/Agencies]
It is not inappropriate for Australia to ban foreign political donations. But it is inappropriate for Canberra to cite Beijing as the reason. When Australian Prime Minister Malcolm Turnbull explained his country's intention to crack down on external interference in domestic politics on Tuesday, he wrongly made China the scapegoat, by citing "disturbing reports about Chinese influence".
The reports Turnbull mentioned were by Fairfax Media and the Australian Broadcasting Corporation, which have jointly been whipping up an anti-China backlash since June.
The two media outlets, presenting unsupported claims as facts and basing their reports on speculation, have accused China of trying to influence the Australian political system by prompting Australian businessmen of Chinese origin to make donations to the country's political parties.
Turnbull should not have bought into this media orchestrated falsehood. And it is wrong for him to engineer his country's policies based on the Australian media's bias against China. The unjustified finger-pointing at China only hurts Australia's ties with its biggest trading partner.
China has no reason to seek political influence in Australia. The growing bilateral ties, highlighted by strengthened economic cooperation and people-to-people exchanges, have remained the mainstream of interactions in recent years, benefiting both.
Admittedly, the two countries do have differences, not least in their political systems, but that should not create undue friction. Especially since the fundamentals of China-Australia ties remain sound and intact. The signing of China-Australia Free Trade Agreement two years ago created a new starting point for bilateral trade cooperation and has produced tangible benefits for both sides.
In recent years, more and more Australians have come to realize that China plays an indispensible role in propelling Australia's economy. Yet there remains an ugly stain on the generally rosy picture of ties, as there are some who claim the growing trade ties are creating dependency and who are trying to revive the idea of a China threat, which has already been shown to be a fallacy.
This year, this ill trend has become more prominent, as some media and politicians in Australia, instead of extinguishing the fire have chosen to fan the flames. If this tendency persists it could eventually undermine ties.
Substantive engagement at senior levels is needed to shore up the relationship by forging greater trust, instilling Australian leaders with the confidence to refute the unfounded accusations of anti-China proponents.
Today's Top News
Editor's picks
Most Viewed