A new environment for fight against pollution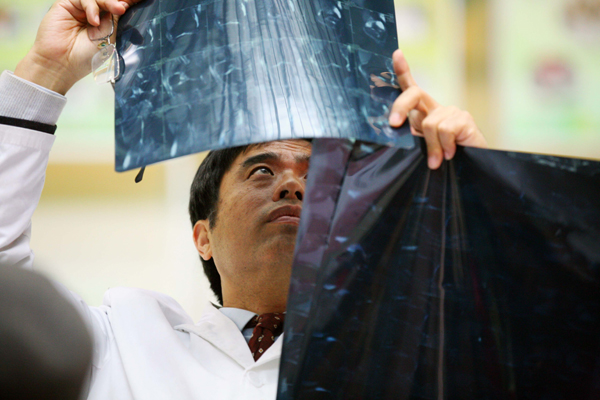 A doctor checks a lung X-ray at Gulou Hospital in Nanjing, capital of Jiangsu province. [Photo by Wang Xin / for China Daily]
Increased screening program
Experts believe cancer is caused by a number of factors, including the quality of water, food, lifestyle, atmosphere and also a genetic predisposition. "But the air is one of the factors with which we have contact every second of our lives," said Lin Yong, a physician at the respiratory department of Zhongda Hospital at Southeast University in Nanjing.
He said the lungs' capacity for self-purification is limited. "Working in an environment with a PM2.5 index of between 200 and 300 is tough on the lungs, not to mention breathing air with levels that are sometimes far in excess of that figure" he said.
Zhong said a growing number of people in large cities such as Beijing and Guangzhou, in Guangdong province, have contracted illnesses related to poor air quality, but argued that the outlook may not be as bleak as some observers imagine.
"It will not take 10 years for the air quality to improve. You can see that the air quality in Guangzhou improved drastically in 2010, when the city hosted the Asian Games. That was because tough anti-pollution measures have been in force there since 2006," he said.
"Cancer is not a disease that witnesses a significant increase or decrease because of changes in the environment or lifestyle," said Wang Ning, deputy director of the Beijing Institute of Cancer Research. He said the high incidence of cancer in Beijing will not decline markedly during the next decade.
"Lung cancer has a high death rate, as much as 90 percent, and the governments of the cities with the worst air pollution should take action as soon as possible," he said, stressing that more than 80 percent of lung cancer patients can be cured if the disease is diagnosed and treated at an early stage.
The Beijing health department will screen residents for the five main types of cancer, including lung, liver and colorectal, during the next five years. Meanwhile, educational cartoons will soon be shown on public transport to popularize preventive knowledge and the importance of early diagnosis.
Geographical challenges
Some areas face a greater challenge than others in the fight against air pollution. Yu Rucong, deputy director of the China Meteorological Administration, said geographic conditions and global climate change have combined to produce enormous difficulties for those seeking to improve air quality in East China.
He said severely smoggy days are the result of a number of factors - moisture and air pollutants, allied to stable atmospheric conditions. "The latter is beyond our control," he said. East China is the world's most prominent place for severe levels of smog, because of the hot, dry weather that spreads down the Yellow and Yangtze Rivers. Meanwhile, the lack of wind on the Qinghai-Tibet Plateau makes diffusion even harder.
Related Stories: