Operation to cure black lung offers new hope, reports He Na in Beidaihe.
Mid-April is still low season for Beidaihe in Hebei province, a costal resort where many sanatoriums are situated. Almost all the hotels offer big discounts, but the area still appears deserted.
However, there's plenty of activity at the Sanatorium of Chinese Coal Miners, where people keep coming and going. However, these aren't tourists, but patients seeking treatment at the Black-Lung Disease Rehabilitation Center, affiliated to the State Administration of Coal Mine Safety.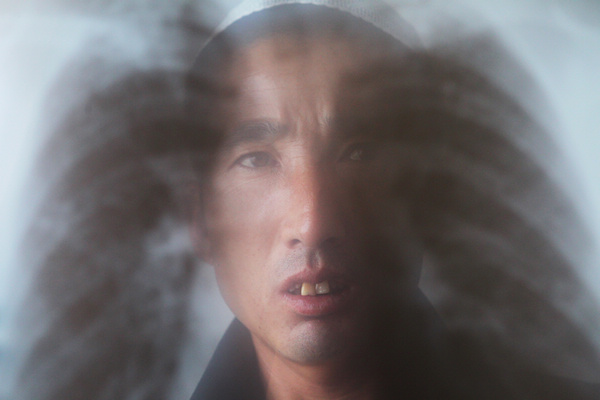 Ma Weishan from Qinghai province stands in front of an x-ray of his chest. Ma was diagnosed with second-stage black lung disease after working in a gold mine in Gansu province for three years. Zou Hong / China Daily 
It's the first hospital in China to have created and carried out the most effective treatment for the disease, massive lavage, flushing out of the lungs.
Workers exposed to dust in coal mines, potteries and gemstone factories run an increased risk of contracting the disease, which has a high fatality rate. Workers inhale large quantities of ash that remain in the lungs and can cause extensive scarring and fibrosis many years later.
The main symptom of the disease, which is divided into three distinct stages, is chronic shortness of breath. "There's no effective treatment, so far. For first and second-stage patients, whole-lung lavage is the best approach. But for terminal patients, we have no treatment because the lingering effects lead to inflammation and other complications," said Duan Jianyong, deputy director of the black-lung division of the center.
Statistics from the Ministry of Health show that more than 653,000 people had the disease at the end of 2009, but NGOs and experts in the field said the true figure is likely to be much higher, because most workers in private mines don't undergo regular physical checks.
Although the operations are carried out six days a week, more than 100 people are still awaiting treatment. Zhang Zhenguo, the director, said that the center has carried out more than 7,000 operations since 1991. Last year 1,059 patients were treated.
In recent years, mining accidents have provoked great public concern in China. However, despite being low-profile, black lung disease is a bigger cause of employee deaths. Data from a National Conference on Coal Mine Black Lung Disease show that 2.65 million people work in China's coal mines. All are regularly exposed to dust particles and approximately 57,000 contract black lung disease every year, resulting in a death toll of about 6,000, twice the number caused by production accidents.
Many patients travel long distances to attend the center. Ma Weishan, 41, from Minhe county in Qinghai province, has made the longest journey. He was diagnosed with second-stage black lung after working in a gold mine in Gansu province for three years. Ma's condition was diagnosed in 2006, along with 60 of his fellow villagers. Some were second-stage like Ma, but a few were diagnosed as third-stage.
Ma hasn't been able to work since he was diagnosed. As the main breadwinner and the father of two children, his condition has brought hardship to the family. Ma and the other villagers diagnosed with black lung traveled to Gansu to seek compensation from the mine owner, but he refused to acknowledge that they had worked for him. That meant they could not claim compensation from the owner or receive injury insurance funds. "We went to Gansu many times, but did not get a penny. Finally, we couldn't even afford the transport and had to give up," said Ma.
The majority of the workers have received no treatment and some of those with third-stage black lung have now died. "In my elderly neighbor's home, their three sons all died last year. I will never forget the scene when the youngest, only in his early 30s, stopped breathing. He was kneeling at the time, because people with this condition can't breathe if they lie down and find more relief if they kneel. If I don't receive treatment, I'll be next," he said.
Ma borrowed about 20,000 yuan ($3,170) from relatives and headed to Beidaihe for the operation.