Sino-EU dialogue focuses on sports
China hopes to strengthen its cooperation with European countries in sports management and personnel, a senior Chinese official said at the fourth EU-China High-Level People-to-People Dialogue in Shanghai on Tuesday.
At the opening ceremony of the two-day event, attended by officials from China and countries of the European Union, Vice-Premier Liu Yandong said "the people-to-people exchanges have become a glittering gem of China-EU cooperation".
After reviewing notable achievements in cultural and educational exchanges, Liu said both sides should look into further exchanges in new fields, especially sports.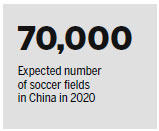 "European countries have a long tradition of winter sports, and Beijing will host the 2022 Winter Olympics," Liu said. "China aims to inspire 300 million people to participate in winter sports. We hope to strengthen cooperation with European countries in sports management, as well as on training and exchanges for athletes, judges and coaches."
Liu said that in 2020 China will have 70,000 soccer fields, most of which will be at schools, and she hopes the two sides will promote school sports exchanges.
Soccer exchanges were introduced in 2016, and 3,000 Chinese students, coaches and judges have participated in various activities since then.
The first dialogue was convened in 2012 to strengthen cooperation in education, training, culture, multilingualism and youth development.
Since then, China has sent 40,000 students and scholars to European universities on government scholarships, doubling the original plan.
At the same time, about 5,000 European students have studied in China, supported by the Confucius Institute, which now has 170 branches in Europe to teach the Chinese language and reveal the culture.
"Our cooperation and exchanges in education, culture and youth create closer ties between us," said Tibor Navracsics, the EU commissioner for education, culture, youth and sports.
This year's meeting features a series of forums including panel discussions with mayors from cities with ancient histories and cultural heritage in China and Europe. They hope to inspire each other through exchanges of ideas on how to tap into channels of culture and tradition for development.
Dozens of youth leaders from 15 European countries also joined their Chinese peers in discussions about the role of the younger generation in people-to-people diplomacy.
A documentary on the China Railway Express to Europe, coproduced by China and Switzerland, was released. And a seminar on gender equality was held on the sidelines of the meeting.
xingyi@chinadaily.com.cn