Daydreams turn into startups
Websites founder helps Chinese choose English names and facilitates exchanges among millennials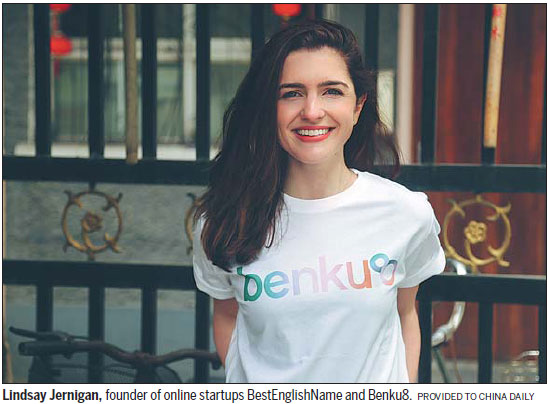 From helping Chinese customers find meaningful English names to creating conversations about trendy millennial topics, Lindsay Jernigan is out to improve the lives of others through digital media.
Jernigan was never the brightest kid in class. Her parents would occasionally get complaints from the teachers that she did not pay enough attention during lessons.
"I was the kid who was always staring into space. My head was just in the clouds. I think I was processing too many things in my head," said the 27-year-old.
But what she lacked in grades, she more than made up for in her athletic prowess. Jernigan was the captain of the girl's soccer team, leading them to four championship titles. This penchant for leadership and getting lost in her imagination has since helped her to forge a career on her own terms. Today, the United States national is the founder of two online startups in Shanghai.
Her first business venture in the city was BestEnglishName, a website that helps Chinese customers pick an English name. The second startup, Benku8, is an online platform that uses videos and livestreaming content to create conversations on topics popular among millennials.
Born in the US state of Maryland, Jernigan and her family moved to the city of Memphis, Tennessee, when she was just 3 years old.
After living there for nearly a decade, Jernigan's father sold his self-storage business and moved to London, as it was a better launchpad to the rest of the world. The family traveled extensively, with Shanghai being one of the stops.
Jernigan later returned to the US where she pursued a degree in international affairs.
Life at George Washington University was eventful and some of the highlights included internships with a non-governmental micro-financing firm in Washington and the Hong Kong branch of multinational bank Barclays.
In 2011, Jernigan embarked on an exchange program at the East China Normal University in Shanghai. This time around, the landscape and the dizzying pace of life proved to be so spellbinding she extended her three-month exchange to a year.
While she dreamed of being a professional soccer player and fashion designer when she was a teenager, Jernigan had set her mind on working in the financial sector following her graduation. As it turned out, a job interview with Goldman Sachs proved to be the turning point in her life.
"The NGO I used to work for in Washington was so disorganized I knew I was not going to help anyone. And that's why I told myself that I would be an investment banker and make lots of money so that I could help all the underprivileged people in the world!" she laughed.
"But when the interviewer asked me what stocks I usually monitored, I just didn't have an answer. I realized at that very moment that I didn't actually want to be in this line of work."
Jernigan ended up in a marketing role at the firm that managed the Super Brand Mall in Lujiazui in Shanghai.
While she learned much from this experience, she was barely satisfied with how her life was turning out. She did not want to be shackled to an office job. She wanted to connect with people and make a difference in their lives.
Nine months into the job, Jernigan quit to set up BestEnglishName in 2015, after realizing that many Chinese were doing themselves a disservice by having strange English names.
To promote the website, Jernigan and an intern took to the streets of Pudong to hand out flyers. She also worked as an English teacher, an exercise instructor and a dog-sitter to pay the bills.
Slowly but surely, customers came calling. Today, the website attracts between 10 and 400 paying clients per day.
But she craved a bigger challenge. She wanted to feel as if she was making the most of her time away from home. Through the conversations she had with her customers, she realized that millennials in China were connecting to the rest of the world more than ever before.
Last year, she launched Benku8 with the aim of fostering exchange between millennials around the world. Each livestreamed video is jointly produced by Chinese and foreigners to achieve a balanced perspective. The site might have been around for only a year but it has already won over a legion of fans, many of whom leave encouraging messages, said Jernigan.
"Our fans often tell us that we make their day better. This is what this site is all about for us. We want our platform to be a place where people can ask questions, understand each other better and connect despite differences in backgrounds and beliefs," she said.
But Benku8 is not merely a medium for millennials to voice their opinions - it is also a means to show international audiences the true side of China.
"Much lot of the narrative about Chinese people in the sensationalist media is that they're horrible people. But that's not the case," she said.
"We are all part of a global population. We actually have more in common with one another than we think. I would love to show the world what China is really like."
alywin@chinadaily.com.cn