China, Russia agree to advance pragmatic cooperation
CHONGQING - Chinese Vice Premier Wang Yang and Russian Deputy Prime Minister Dmitry Rogozin on Monday agreed to expand cooperation.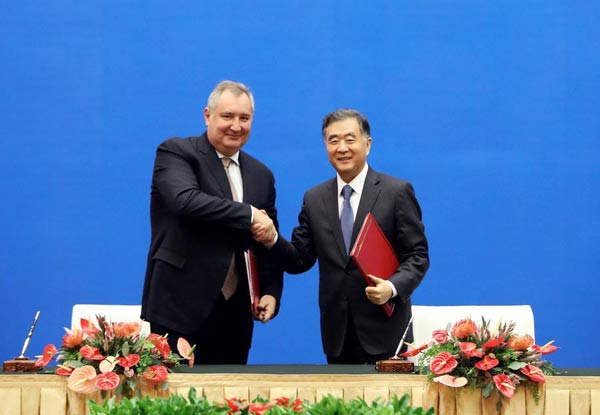 Chinese Vice Premier Wang Yang and Russian Deputy Prime Minister Dmitry Rogozin shake hands after signing documents to agree to expand bilateral cooperation in Chongqing of Southwest China on Monday. [Photo/Xinhua]
Wang and Rogozin co-chaired the 21st meeting of the Joint Commission for the Regular Prime Ministers' Meetings of China and Russia in southwest China's Chongqing Municipality.
The meeting is preparation for the 22nd regular meeting of Chinese premier and Russian prime minister.
Wang is a member of the Standing Committee of the Communist Party of China(CPC) Central Committee Political Bureau.
During the meeting, Wang said under the guidance of Chinese President Xi Jinping and Russian President Vladimir Putin, bilateral ties are better than ever.
He said the Joint Commission mechanism had been efficient and bilateral cooperation had yielded fruitful results.
Wang said Sino-Russian trade has continued to improve this year with cooperation in nuclear energy, civil aviation, aerospace, and cross-border infrastructure construction advancing steadily.
The two sides discussed new areas for cooperation, including Far East development, Arctic development and the digital economy, he said.
Rogozin said Russia has always regarded the relations with China as the strategic priority of its foreign policy.
Current Sino-Russian relations are in the best period of history, he said, noting that Russia is ready to deepen cooperation with China on the basis of mutual benefit and win-win results.
He called on the two sides to give full play to the role of the Joint Commission mechanism to push for more cooperation.
During the meeting, the two sides reviewed the work of the Joint Commission over the past year and exchanged views on the next steps in cooperation.