Volcano eruption in Bali a blow to tourism
Fishermen bring in their catch as the Mount Agung volcano is seen in the background at Amed in Bali, Indonesia, on Saturday. SONNY TUMBELAKA/AGENCE FRANCE-PRESSE
BALI, Indonesia - Impacts from escalating volcanic activities of Mount Agung on Bali island have direly affected those earning their living from tourism in Amed, an eastern coastal area well known for its beautiful beaches, surfing and diving spots.
The area, located 80 km northeast of the capital Denpasar, is now an empty town with most of its cottages, homestays, villas, hotels and cafes vacated.
Amed used to be lively, with Western tourists carrying surfboards and diving equipment on their way to the beach.
Dozens of white boats that used to serve foreign divers are now parked neatly on the beach, helplessly waiting for customers.
Nahede, a 50 year-old boatman, said conditions have deteriorated.
"This beach used to be filled with people. Now, no one has been here since Mount Agung erupted months ago," Nahede said on Friday.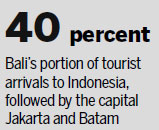 He said his life has become harder since Mount Agung began "coughing", making him barely able to make ends meet.
"I had never experienced this kind of situation before. This is too hard for me. I used to get tips from generous tourists that could be up to 300,000 rupiah (nearly $22) per day," he said.
His earnings now come from people hiring the boat for fishing. "They pay me with fish, which I eventually sell to merchants in the market."
The situation facing Nahede was also bitterly felt by those running hospitality businesses.
"I come here once every two days just to clean up the rooms. They have all been empty in the past week. Not one single tourist has stayed here since then," said Ni Luh, an attendant at Surya Rainbow villa on Amed beach.
"Guests are not coming now, even though we have been offering discounts," Ni Luh said, adding that many customers canceled their bookings after they learned about the eruption.
Indonesian Tourism Minister Arief Yahya said recently that Bali accounts for 40 percent of tourist arrivals to the country, followed by the capital Jakarta (30 percent) and Batam (20 percent).
Xinhua