Li makes the case for closer SCO ties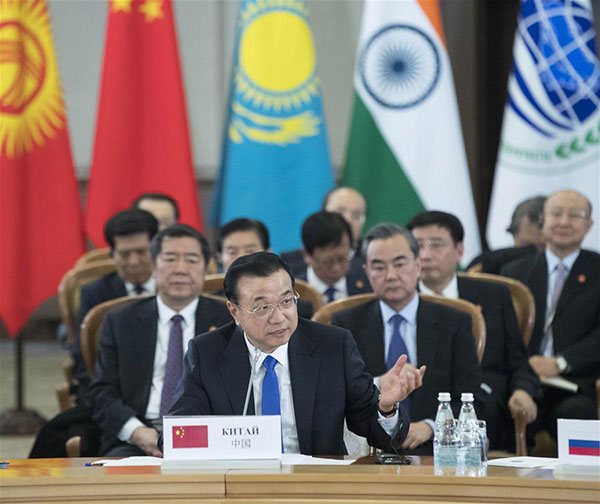 Premier Li Keqiang attends the 16th meeting of the Council of the Shanghai Cooperation Organization (SCO) Heads of Government (Prime Ministers) in Sochi, Russia, Dec 1, 2017. [Photo/Xinhua]
Premier Li Keqiang on Friday made proposals to deepen cooperation within the Shanghai Cooperation Organization at its annual prime ministers' meeting in Sochi, Russia.
Li called for strengthened exchanges with other SCO members in regional security, free trade, transportation networks, innovation and production capacity and people-to-people exchanges at the 16th Meeting of the Council of Heads of Government (Prime Minister) of SCO, chaired by Russian Prime Minister Dmitry Medvedev.
Li called on members to increase trade liberalization and said a feasibility study for an SCO free trade zone should be carried out at an appropriate time to set up a systematic arrangement for regional economic cooperation.
The premier said security cooperation should be carried out to make the region safe and stable. He urged all members to approve the SCO Anti-Extremism Convention as soon as possible to enhance the mechanism for law enforcement cooperation, such as crackdowns on drug dealing and cross-border crime.
The SCO has made the fight against separatism, extremism and terrorism one of its essential missions since its founding 16 years ago.
Li suggested members' development strategies should be better aligned to cope with rising challenges and promote regional stability and prosperity. He also said China supports financial institutions like the Asian Infrastructure Investment Bank, the Silk Road Fund and the SCO Interbank Consortium to provide help in financing as members accelerate building regional transportation, energy, information and telecommunication networks.
The premier called for boosting investment facilitation and promoting economic cooperation parks and demonstration zones for production capacity cooperation. Cooperation in fields such as aerospace and innovation should be enhanced along with clean energy and the green economy. Exchanges between small and medium-sized enterprises should be strengthened.
Li returned to Beijing on Saturday.