Kenya's Kenyatta swears in for second term, pledges to prioritize unity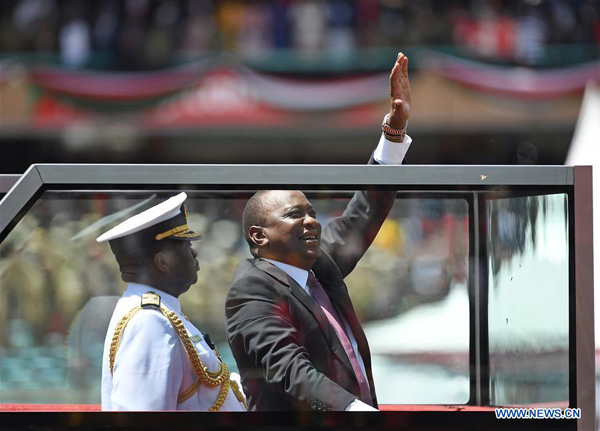 Kenyan president-elect Uhuru Kenyatta (R) greets the crowd during the sworn-in ceremony in Nairobi, Kenya, on Nov 28, 2017. [Photo/Xinhua]
NAIROBI - Kenyan president-elect Uhuru Kenyatta took the oath of office on Tuesday, promising to prioritize unity in his second and final five-year term.
Security had been heightened both inside and outside the Kasarani Stadium in Nairobi, venue of the swearing-in ceremony, with heavily armed military officers manning the place.
Kenyatta won the Oct 26 repeat election with 7.48 million votes in 266 out of 291 constituencies where the election took place. This represents about 98.27 percent of valid votes.
When addressing the audience at the swearing-in ceremony, Kenyatta pledged to work toward uniting Kenyans who have been divided along ethnic lines, and to respect the rule of law.
The 56-year-old Kenyatta, who took the oaths of allegiance and office administered by Registrar of Judiciary Anne Amadi and witnessed by Chief Justice David Maraga, promised to build bridges by reaching out to his adversaries to develop the east African nation.
"I have begun reaching out to all leaders, across the political divide, restating my commitment and expressing my willingness to work with them, to achieve this objective of nationhood," Kenyatta said.
Over the next five years, Kenyatta said, his government shall invest heavily in securing water towers and river ecosystems to harvest and sustainably exploit the potential of water resources.
"We shall take steps to address idle arable land ownership and utilization. We shall take steps to encourage and facilitate large-scale commercial agriculture to help diversify our staples. We shall redesign subsidies to the sector to ensure they target improvements in food yields and production quality," he said.
The swearing-in ceremony was punctuated by jubilation, songs and dancing from the mammoth crowd.
Kenyatta's swearing-in paved way for him to start his final term in office after a tumultuous electioneering period marked by nullification of his victory in the Aug 8 polls over irregularities as well as polarization in the country.
Both the president and his deputy, William Ruto, swore to protect and uphold the sovereignty, integrity and dignity of the people of Kenya.
"I will always truly and diligently serve the people and the Republic of Kenya in the Office of the President," Kenyatta said, and the crowd responded, "Yes sir."