'Dragon' stretches further than believed
McKinsey report reveals that China's engagement in African manufacturing is much higher than estimated
Kartik Jayaram says Africa is China's $440 billion business opportunity.
The 42-year-old is one of the co-authors of "Dance of the Lions and Dragons", a report by management consultants McKinsey& Co that cites this figure as the revenue that could be generated within a decade by Chinese companies working on the continent.
"Our study reveals the sheer scale of engagement. What we have been able to do is dig deeper. There have been no real large-scale studies," he says.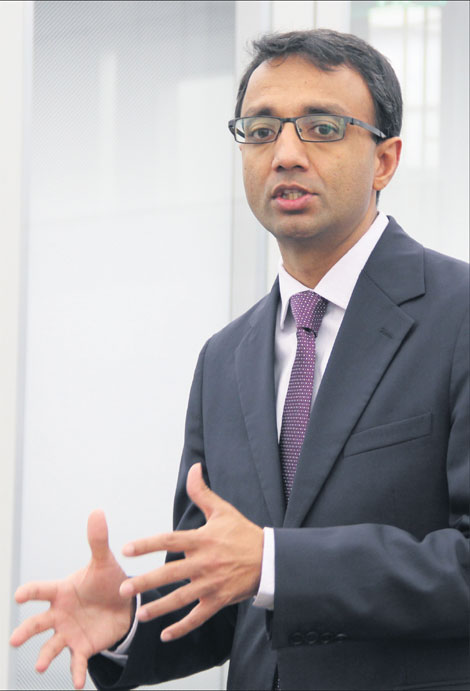 Kartik Jayaram, senior partner of McKinsey & Co in Nairobi. Provided to China Daily
"There is a huge discrepancy on at least what we are seeing anecdotally on the ground versus what we saw from the databases that already existed."
The report is perhaps the most comprehensive analysis to date of the economic relationship between China and the rapidly emerging continent.
Apart from the contributions of Jayaram, senior partner in McKinsey's Nairobi office, the report is also the work of Omid Kassiri, another Nairobi partner, and Irene Yuan Sun, engagement manager in the company's Washington office. Sun is also the author of the book The Next Factory of the World: How Chinese Investment Is Reshaping Africa.
Published earlier this year, the McKinsey report involved the collaboration of some 1,500 people across the continent. It also received support from the Bill & Melinda Gates Foundation.
One of its main conclusions is that the revenues of Chinese companies will grow from $180 billion today to $440 billion by 2025 if they continue to expand aggressively.
To achieve this, they will have to move into five new sectors, including banking and insurance, housing and information communications technology, according to the report.
Jayaram, speaking from Nairobi, says another key finding was that there are about 10,000 Chinese companies operating on the continent - 90 percent of them in the private sector - and that all previous research had greatly underestimated this figure.
"We had a small team of researchers literally going to individual countries and almost doing detective work," he says.
"In one country, there were nine times more companies than had previously been picked up by other databases, such as those of trade associations. The average was three to four times more across a range of countries than had previously been estimated."
Jayaram says that one of the conclusions to draw from this was that the operations of Chinese companies are perhaps the most important engagement that the world's second-largest economy now has with Africa.
"The focus has been on government-to-government lending, the infrastructure deals and whether this is a neo-colonial engagement," he says.
Of the Chinese companies in Africa, nearly a third (31 percent) are involved in manufacturing, with 25 percent in services, 22 percent in trade and 15 percent in construction and real estate.
Chinese companies, in fact, make up around 12 percent of Africa's total manufacturing production of around $500 billion.
Jayaram says the findings are a strong rebuttal to those who think that Chinese manufacturing in Africa begins and ends with Huajian, the Chinese shoemaker, based just outside Addis Ababa, which is sometimes held up as a solitary success story.
"It is actually quite tragic that people think that. The presence of Chinese manufacturing firms is quite consistent across countries, with the proportion of Chinese companies being involved in manufacturing above 30 percent in most of them," he says.
Jayaram says another striking feature is that most Chinese manufacturing in Africa is there to serve the local, and not the international, market.
"They are coming to serve the domestic market because there is a huge shortage of manufacturing on the continent. Ethiopia is the exception here, with companies in its industrial parks serving the European and US markets.
"The development of manufacturing in Africa is therefore very different from the way China developed after reform and opening-up, when it mainly sold goods to international markets."
Nearly a third (30 percent) of the 1,000 Chinese companies surveyed for the report said they had profit margins of more than 20 percent, and around half make significant investment decisions in less than a month.
"No Western company could do things at that pace. One of the reasons why it is profitable to manufacture here is that there is a significant price premium on certain goods, with prices 30 to 50 percent higher than in the West," adds Jayaram.
The report also seems to undermine those who argue that Chinese companies only employ Chinese labor. Nearly nine out of 10(89 percent) of the employees of companies surveyed were African, which equates to 300,000 jobs.
Nearly two-thirds of the companies say they provide skills training and 44 percent of the managers are African.
"You hear all these stories of Chinese labor being sent here. There is so much hype and anxiety around this stuff. If you go to any construction site in Africa, you will see one or two Chinese people and 20 Africans," he says.
"So many Chinese workers are on expat packages and you have to send them back and forth. It is just too expensive to use mainly Chinese labor."
Jayaram, who has had a long engagement with both China and Africa, has been based in Nairobi for three years and now leads McKinsey's Africa Delivery Hub, aimed at helping governments and social institutions deliver the commitments they make.
Originally from Delhi, he studied engineering at the Indian Institute of Technology Roorkee before getting an MBA at the University of Chicago Booth School of Business and a master's in operations research from the University of North Carolina.
He joined McKinsey in 2000 and has had a number of roles, many of them involving working with private Chinese companies, some of them multinationals.
He says McKinsey decided to do the report because there was a lack of concrete information about what was becoming a major geopolitical trend.
"We clearly noticed the big phenomenon that was happening. We had clients asking questions and they literally couldn't find any facts, so that is how it started," he says.
"We invested in the original research and then partnered with the Gates Foundation, who supported us with their connections and their intellectual capital, and some financing for the researchers we hired."
The report clearly shows how the economic relationship accelerated after the turn of the century. China-Africa trade increased from $13 billion in 2001 to $188 billion in 2015 - an annual average growth rate of 21 percent. Trade between Africa and China is now triple that of Africa's next biggest trade partner.
The increase in foreign direct investment has been even greater, rising from $1 billion in 2004 to $35 billion in 2015, an average annual growth rate of 40 percent.
It is estimated to have reached $49 billion in 2016.
At this rate, it will have the largest stock of FDI in Africa of any country, and this means it will overtake countries such as the United Kingdom, which had $71 billion of FDI in 2014, despite the former colonial power having two centuries of engagement with the continent. The United States, with $79 billion of FDI in 2014, will also be eclipsed.
"The growth of China's engagement over the past 10 to 15 years has just been phenomenal. Chinese companies are also winning a lot of World Bank and African Development Bank projects because, quite frankly, they are very competitive and they are the most cost-effective."
The report concludes with what a Chinese businessman, who had spent more than 40 years in Nigeria, told Jayaram over a lengthy dinner.
"He said: There is a wise saying in Yoruba: Should I wash my left hand or my right hand? The answer is that the right hand should wash the left, and the left hand should wash the right. That is the way to do things. Africa is one hand; China is the other. Working together is the way to do things."
Jayaram believes this sums up the potential of the relationship between China and Africa.
Nearly three-fourths (74 percent) of the Chinese companies in the survey were optimistic about their future in Africa.
"We do think this can be a wonderful partnership. We do think both sides need to do more, to make sure it is a long-term sustainable partnership, but we do believe that this can be achieved," adds Jayaram.
andrewmoody@chinadaily.com.cn
( China Daily Africa Weekly 11/24/2017 page8)