Alabama candidate Moore asked to step aside from senate race amid alleged sex scandal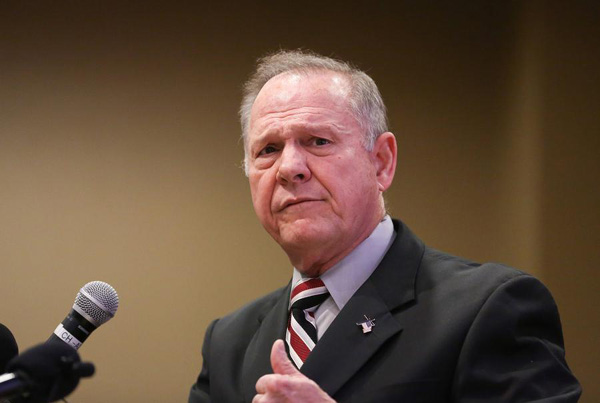 Roy Moore participates in the Mid-Alabama Republican Club's Veterans Day Program in Vestavia Hills, Alabama, US, Nov 11, 2017. [Photo/Agencies]
WASHINGTON - Senate Majority Leader Mitch McConnell asked on Monday Alabama senate candidate Roy Moore to drop out of the race amid allegations that he was sexually involved with teenage girls when he was in his 30s.
"I believe the women, yes," McConnell told reporters in a press conference held in US state of Kentucky. "I think he should step aside."
The remarks came after a bombshell report published by The Washington Post last week, in which several female interviewees said Moore pursued relationships with them when they were teenagers.
One woman claimed that she was 14 when Moore, then 32 years old, initiated sexual contact with her.
Moore has denied the allegations, and claimed on Sunday that he would sue the US news organization for what he called attacks on his "character and reputation."
In response to McConnell's comments, Moore tweeted that it is the Kentucky Republican who should drop out of politics.
"The person who should step aside is @SenateMajLdr Mitch McConnell," Moore wrote. "He has failed conservatives and must be replaced."
McConnell, the top Republican in the Senate, was a frequent target of Moore on his campaign trail to defeat Luther Strange, who was backed both by majority leader and President Donald Trump, in the GOP primary in September.
Moore, who has been a controversial politician due in part to his racially-charged and homophobic remarks, routinely labeled McConnell as a primary obstacle to a more conservative agenda
Several GOP senators have already rescinded their endorsement of Moore in the wake of the story. Arizona Senator John McCain said the report was enough for them to urge Moore to step aside from the race.
McConnell told reporters on Monday that the GOP is exploring whether a write-in candidate could be successful in the run-off special election next month.
The National Republican Senatorial Committee, one of the party's main campaign arms, has reportedly cut fundraising ties with Moore.