Chinese president arrives in Laos for state visit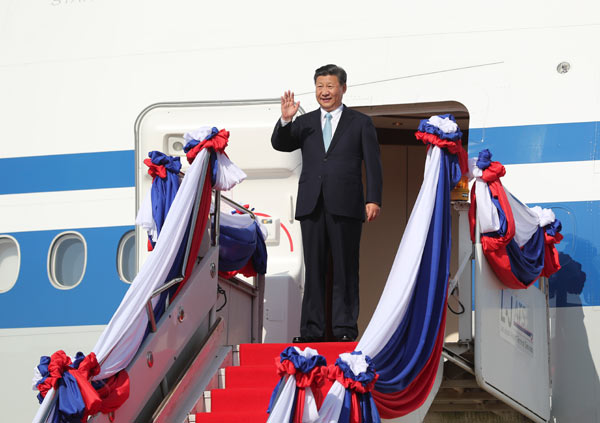 President Xi Jinping arrives in Laos on Monday at the start of a state visit to the country. [Photo/Xinhua]
VIENTIANE -- Chinese President Xi Jinping, also general secretary of the Communist Party of China (CPC) Central Committee, arrived in Laos Monday for a state visit as the two socialist countries are seeking to consolidate their traditional friendship.
It marks the first visit in 11 years by a Chinese head of state and top CPC leader to this neighboring country in Southeast Asia.
Xi is scheduled to meet with Bounnhang Vorachit, general secretary of the Lao People's Revolutionary Party Central Committee and president of Laos, Lao Prime Minister Thongloun Sisoulith, and President of the Lao National Assembly Pany Yathotu.
In a written speech delivered upon arrival at the airport, Xi extended sincere regards and best wishes to the brotherly LPRP, the Lao government and the Lao people on behalf of the CPC, the Chinese government and the Chinese people.
Both as Communist-led socialist countries, China and Laos are truly "good neighbors, friends, comrades and partners," Xi said.
Since the two countries established diplomatic ties 56 years ago, the traditional good neighborly and friendly relations have stood the test of international vicissitudes and have become even stronger, Xi said.
The in-depth development of bilateral comprehensive strategic cooperative partnership has not only brought tangible benefits to the two countries and peoples, but also contributed to the peace, stability and prosperity in the region and the world at large, he said.
"I believe with concerted efforts of both sides, my visit will achieve our desired results, lift our relationship to a new high and bring greater benefits to our two peoples," he added.
Xi was greeted by senior party and state leaders of Laos at the airport.
Huge portraits of Xi and Bounnhang, as well as banners bearing welcome slogans in the Chinese and Lao languages "Warmly welcome the state visit by Comrade Xi Jinping, general secretary of the CPC Central Committee and Chinese president, to Laos," were seen hanging on the main streets of the Lao capital Vientiane.
Thousands of local residents, including young students, lined up along the streets, waving national flags of the two countries and cheering as Xi's motorcade passed by.
Vientiane is the final leg of Xi's first overseas trip after the 19th CPC National Congress, which was held last month. Prior to the Laos visit, he attended the 25th Asia-Pacific Economic Cooperation Economic Leaders' Meeting in Vietnam's central city of Da Nang and paid a state visit to the country in Hanoi.