Strong, constructive US-China ties important to world: US top diplomat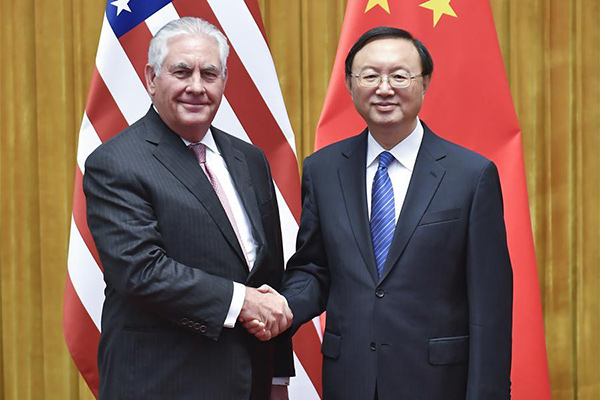 State Councilor Yang Jiechi (R) meets with visiting US Secretary of State Rex Tillerson in Beijing, Sept 30, 2017. [Photo/Xinhua]
WASHINGTON - US Secretary of State Rex Tillerson said Saturday that a strong and constructive US-China relationship is important to the prosperity and stability of the world.
"Now more than ever, a strong, constructive relationship between the United States and China is important for the prosperity and stability of our two countries as well as the world," he said in a press statement released by the US Department of State on the occasion of China's National Day, which falls on Sunday.
"On behalf the United States, I would like to congratulate all of the Chinese people as you celebrate the 68th anniversary of the founding of the People's Republic of China on October 1," said the statement.
"We wish the people of China a joyous celebration, and peace and prosperity over the coming year," he added.
The US top diplomat was in Beijing for a visit to prepare for US President Donald Trump's state visit to China later this year. He met with Chinese President Xi Jinping and Chinese State Councilor Yang Jiechi and held talks with Chinese Foreign Minister Wang Yi.
Xi said that China-US ties have been generally stable, and that Chinese and US teams should implement the consensuses reached by the two heads of state, grasp the direction of bilateral relationship, respect each other, and focus on cooperation while dealing with differences properly.
"The common interests of our two countries far exceed our differences, and cooperation is the only correct choice," Xi told Tillerson.
The Chinese president added that China attaches great importance to Trump's visit, and that the teams on both sides should work closely to make the visit "successful and special."