Tillerson's talk is a counterbalance to recklessness of Trump's tweets
US Secretary of State Rex Tillerson will be in Beijing this weekend to prepare for President Donald Trump's visit to China and to discuss issues ranging from denuclearization of the Korean Peninsula to trade and investment.
The trip comes two weeks after his meeting with Chinese State Councilor Yang Jiechi in Washington. US Commerce Secretary Wilbur Ross also visited Beijing early this week, while Chinese Vice-Premier Liu Yandong is in United States this week to co-chair with Tillerson the inaugural China-US Social and People-to-People Dialogue.
Such frequent high-level contacts are a good way for the two nations, which have different cultures, political systems and are at different development stages, to improve mutual understanding and trust, expand cooperation and manage differences.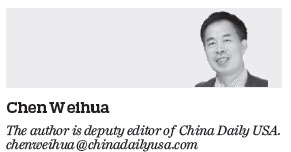 Today's Top News
Editor's picks
Most Viewed