Team links for trade between China and Kenya
For the first time, businesspeople from Kenya teamed up as a delegation to participate in the 8th China (Linyi) International Trade and Logistics Fair, held between Sept 22 and 25 in Linyi, Shandong province.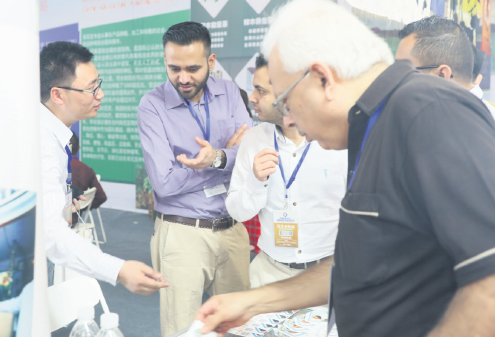 Liu Zongguo (left), deputy team leader and committee member of Kenya Shandong Chamber of Commerce, helps to introduce Kenya made products to visitors. [Photo/China Daily] 
"We benefited a lot from the fair and purchased building materials worth 800,000 yuan ($121,000; 103,000 euros; £90,45090,450). We also signed several letters of intent for the procurement of other products, worth of 2.05 million yuan," says Liu Zongguo, deputy team leader and committee member of Kenya Shandong Chamber of Commerce.
Led by Zhuo Wu, chairman of Kenya Chinese Chamber of Commerce, the Kenya delegation consisted of 27 professional buyers and four exhibitors.
"It is the first time that Kenya businessmen participated in the fair as a delegation. Some attended the previous one last year and found great business opportunities, which aroused enthusiasm for a second trip," Zhuo says.
Harshit Ramesh Shah, a member of the delegation and director of Kenya Elite Offset Ltd, says: "The fair was excellent and it was well organized, with great hospitality. We will definitely come again next year."
Professional buyers attended from 62 countries and regions, including South Korea, Japan, Pakistan, Mexico and the United States. The 4-day event recorded 143,800 visits. Professional buyers signed deals worth 1.63 billion yuan.
Zhang Shuping, mayor of Linyi, says the participation of more than 1,000 overseas professional buyers has helped upgrade the internationalization of the fair.
A total of nine events, including the 4th China (Linyi) World Wood-based Boards Conference, the 16th National Symposium on Wood-based Boards Industry Development and the 2017 China (Linyi) Summit Forum on Building Ceramic Development, were held during the fair.
"Market operation was given full play at the fair," says Zhang, adding that the government only provides guidance.
The success of Linyi lies in its convenient trade and logistics facilities. The city has now 134 professional wholesale markets, covering an area of about 14.5 million square meters, with 65,000 proprietors and more than 200,000 employees, dealing with all kinds of commodities, such as clothes, toys, hardware, building materials, machinery, labor protection products, and so on.
Last year, Linyi held 109 exhibitions with a combined exhibition area of 1.274 million sq m, attracting 22,867 exhibitors and 1.56 million visitors and reaping a trading volume of 16.3 billion yuan.
There are 128 professional wholesale markets in Linyi Trade City. A total of 49,000 businessmen and 233,000 employees work at 62,000 stores and booths.
In line with the Belt and Road Initiative, Linyi has sped up its overseas expansion. In recent years, the logistics cooperation park for Sino-Europe commercial trade in Hungary and Linyi Commercial Trade Centers in Germany and Pakistan were put into operation. The Kenya Linyi Commercial Trade Center, or KLCTC, will be the fourth to be constructed.
liuhongjie@chinadaily.com.cn