23 killed, 40 injured in India train accident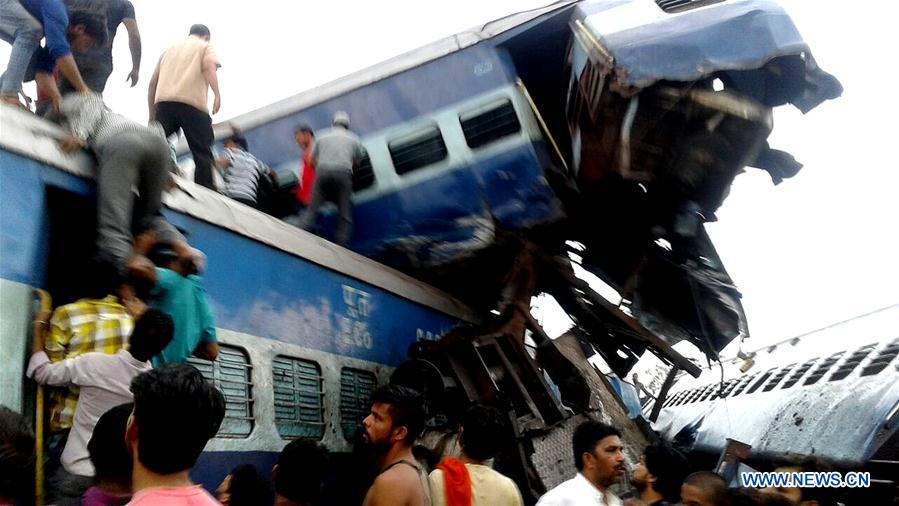 Photo taken on on Aug 19, 2017 shows the site of a train derail accident happened at Muzaffarnagar, Uttar Pradesh, India. At least 20 people were killed and over 50 others injured Saturday after a passenger train derailed in northern Indian state of Uttar Pradesh, local media reports said.[Photo/Xinhua]
The train Utkal Express derailed in Muzaffarnagar's Khatauli area at around 5:45 p.m. local time. Railway ministry officials said the cause of accident was not immediately known.
The Indian railway ministry has ordered an inquiry into the accident.
"Have ordered inquiry into the unfortunate accident to ascertain the cause. Strict action will be taken against any lapse," Indian railway minister Suresh Prabu said. "I am personally monitoring situation."
Following the derailment, locals first rushed to the spot to help people trapped in the derailed coaches and subsequently informed the police and railway officials.
"Most of the rescue work was carried out by locals. Official assistance reached late," Atul Srivastava, a local volunteer, said.
The Indian government has announced a compensation of 7,792 U.S. dollars for each family that has lost a member in the accident, while the injured will be given an assistance of 1,558 dollars each.
Meanwhile, Indian President Ram Nath Kovind and Prime Minister Narendra Modi have expressed grief over the accident.
"Extremely pained by the derailment of the Utkal Express in Muzaffarnagar. My thoughts are with the families of the deceased," Modi said and wished a speedy recovery for injured in the accident.
"Railways Ministry and Uttar Pradesh Government are doing everything possible and providing all assistance required in wake of the train derailment," Modi said.
In January this year, 39 people were killed and over 50 injured in train derailment in southern Indian state of Andhra Pradesh.
The Indian government in 2015 announced an investment of over 137 billion dollars over a period of five years to boost railways and modernise it on new lines.
Indian sprawling railways are the world's third largest network, ferrying around 23 million people each day.
Last year a train accident in Uttar Pradesh killed 145 and injured around 200.