23 killed, 40 injured in India train accident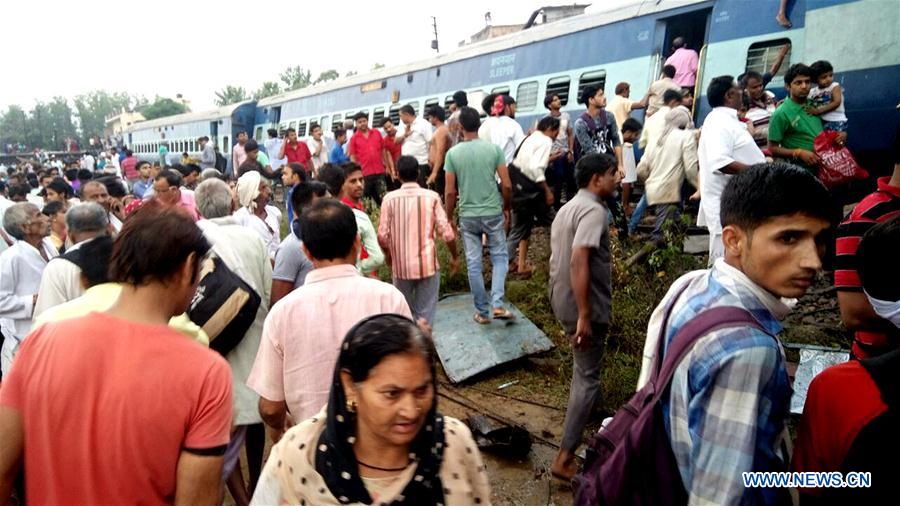 Photo taken on on Aug 19, 2017 shows the site of a train derail accident happened at Muzaffarnagar, Uttar Pradesh, India. At least 20 people were killed and over 50 others injured Saturday after a passenger train derailed in northern Indian state of Uttar Pradesh, local media reports said.[Photo/Xinhua]
NEW DELHI - At least 23 people were killed and over 40 others injured, some of them critically, on Saturday after a passenger train derailed in northern Indian state of Uttar Pradesh, police said.
According to Indian railways spokesperson, 14 coaches of the train derailed in the accident.
The accident took place in Muzaffarnagar district of Uttar Pradesh, around 100 km from New Delhi, India's national capital.
A derailed coach hit a nearby house, damaging it severely, reports said.
"Today a train derailed here causing coaches to fall upon one another," a statement issued by Uttar Pradesh police to local media said. "In this tragedy, 23 people were killed and over 40 others injured, who were admitted in different hospitals."
There are fears some passengers might be caught inside mangled coaches and death toll is likely to increase.
Officials said the injured were being admitted at Khatauli, Meerut and Muzaffarnagar hospitals.
Authorities have rushed police and disaster response force personnel to the spot to carry out rescue work. The rescuers were seen using gas cutters to cut the steel and help the people trapped inside the coaches.
A crane has also been brought to the spot to lift the derailed coaches.
Television images showed huge crowd gathered at the accident site.