Big Ben to stop chiming for four years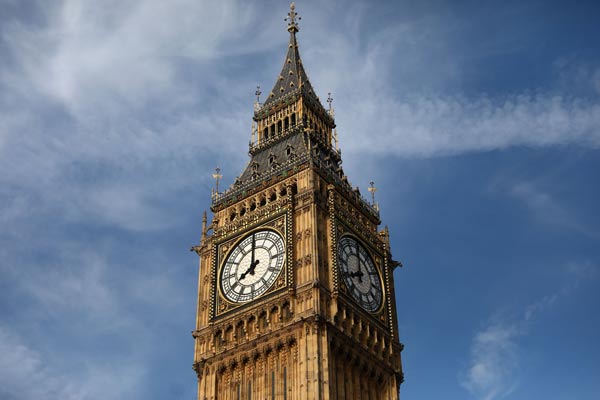 The Elizabeth Tower, which houses the Great Clock and the 'Big Ben' bell, is seen above the Houses of Parliament, in central London, Britain August 14, 2017. [Photo/Agencies]
Big Ben, London's best known landmark will fall silent for four years to allow the tower to be renovated.
The clock, which is part of the Elizabeth Tower of the Palace of Westminster, will chime its last on August 21 at noon.
The great bell, nicknamed Big Ben, has sounded for 157 years, occasionally stopping for repairs, bad weather and funerals.
The clock will continue to keep time but the chimes of the bell could harm workers. The bell will be sounded for important events such as New Year's Eve and Remembrance Day.
Steve Jaggs, Keeper of the Clock, said: "Every day our team of highly skilled clock mechanics cares for this Victorian masterpiece but, in order to keep the Clock ticking, we must now take the time to thoroughly inspect and restore it. These essential works balance value for money with Parliament's custodial responsibility to the building as well as to those visiting and working in the Elizabeth Tower. This project will enable us to give one of Britain's most famous landmarks the TLC it so desperately needs and deserves."
The Great Bell is part of the Great Clock in the Elizabeth Tower. It weighs 13.7 tonnes and the tower which is next to the Houses of Parliament is almost 30 metres tall.
The bell is rung when it is hit by a hammer on the hour and every quarter-hour.
The renovation work will include the dismantling and repairing of the clocks work and the tower and the introduction of amenities such as a lift and a kitchen.