Xi's gift to Britain's monarch on show
A special display of more than 200 items presented as gifts to Queen Elizabeth II throughout her 65-year reign has opened in Buckingham Palace.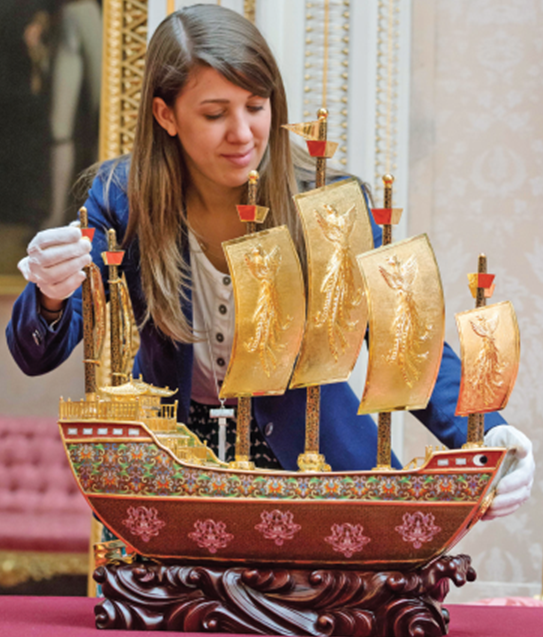 The Vessel of Friendship, presented to the queen in 2015 by President Xi Jinping, is on display in London. [China Daily]
The Royal Gifts exhibition, which runs until Oct 1, includes a gift from President Xi Jinping - the Vessel of Friendship, which is a model of the 15th-century treasure ship sailed by Zheng He, who was a great Chinese navigator, explorer and diplomat. He led seven exploration voyages to the Indian Ocean between 1405 and 1433 during the Ming Dynasty (1368-1644).
Decorated with a dove and olive branch medallion, with traditional Chinese symbols of friendship and peace, Xi presented it to the queen during his state visit to the United Kingdom in October 2015.
Overall, there have been about 10 gifts presented to the queen by Chinese leaders during her reign, said Sally Goodsir, the assistant curator of decorative arts at the Royal Collection Trust, who is curator of this year's summer exhibition.
"I really want to show this piece, as it has never been displayed before and obviously was presented very recently. It is a wonderful example of Chinese craftsmanship," she said."The ship came with a little booklet, explaining that the vessel came with the Chinese people's wish for friendship and peace with the United Kingdom, which I think is a lovely message to come with a diplomatic gift."
The exhibition explores the queen's roles as head of state, and of the Commonwealth, through gifts presented by people from all walks of life, and from 100 countries and territories. The gifts were received during state visits, overseas tours, and official engagements.
A paperweight made from a dinosaur bone, a handbag woven from banana leaves, and a BAFTA Award are among the intriguing objects on display.
The gifts have often been examples of local craftsmanship and artistic traditions, such as the white Kili bag of woven coconut leaves given to the queen by President Christopher Jorebon Loeak of the Marshall Islands following a reception at Buckingham Palace for heads of state and government representatives attending the opening ceremony of the London 2012 Summer Olympics.
Some of the gifts record significant events or moments in nations' histories, such as the Union Flag badge worn in space by Major Tim Peake, which was presented to the queen at Windsor Castle in April.
For her 90th birthday in 2016, Salt Island, one of the British Virgin Islands, presented the queen with a linen bag containing salt, reflecting the tradition, reintroduced in 2015, of the island paying the monarch an annual rent of a pound of salt on her birthday.
Contained within the exhibition is a tribute to Diana, Princess of Wales. This year marks the 20th anniversary of her death. Diana, who was killed in a car accident in Paris on Aug 31, 1997, undertook many official duties, both at home and abroad.
The centerpiece of the display honoring Diana is the desk from her sitting room at Kensington Palace, where she wrote letters and read official briefings and correspondence.
Many of the objects on and around the desk were selected by her sons, Prince William and Prince Harry, and reflect their mother's commitment to duty and their personal memories of her.