US imposes sanctions on Venezuela leader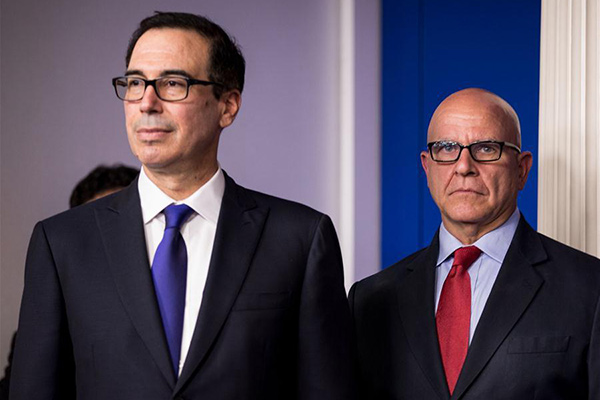 US National Security Advisor H.R. McMaster (R) and Treasury Secretary Steven Mnuchin attend a daily briefing to address sanctions on Venezuelan President Nicolas Maduro at the White House in Washington D.C., United States, on July 31, 2017. [Photo/Xinhua]
WASHINGTON - The United States on Monday slapped sanctions on Venezuelan President Nicolas Maduro after Venezuela held its National Constituent Assembly (ANC) on Sunday.
"By sanctioning Maduro, the United States makes clear our opposition to the policies of his regime," a statement by the US Treasury Department quoted Treasury Secretary Steven Mnuchin as saying.
The statement also warned that anyone who participates in the ANC could be exposed to future US sanctions.
As a result of the sanctions, "all assets of Nicolas Maduro subject to US jurisdiction are frozen," said the statement, adding that US persons are prohibited from dealing with him.
Apart from the sanctions against Maduro, the US Treasury Department had already slapped sanctions on 13 current or former senior officials of the Venezuelan government amid political turmoil in the South American country.
The Venezuelan officials were blacklisted for their association with the election of the controversial National Constituent Assembly (ANC) and their government's "rampant violence against opposition protesters and its corruption," the US Treasury Department said in a statement on Wednesday.
According to Venezuela's National Electoral Council, more than 8 million people on Sunday participated in vote to elect a new ANC tasked to rewrite the constitution, with a 41.53-percent turnout rate.
The vote on Sunday came at a time of high tension in Venezuela, with the anti-government protests organized by the opposition, Democratic Unity Roundtable (MUD), having led to more than 110 deaths since early April.
The ANC was proposed by Maduro in May to rewrite the 1999 Constitution to break the ongoing political deadlock that has paralyzed the South American country. But the opposition said it was an excuse for Maduro to consolidate power.