Coaches tackle UK soccer training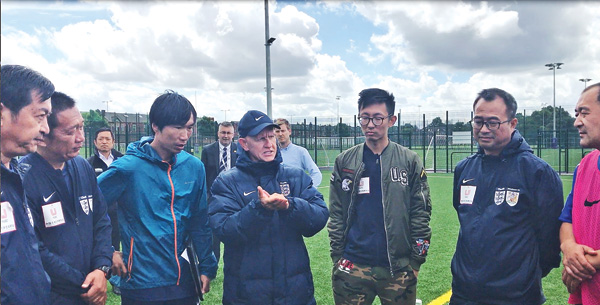 English soccer coach Keith Mayer passes on tips to Chinese coaches. [Photo provided to China Daily]
Seasoned English soccer coach Keith Mayer observed from the touchline as two dozen players engaged in a high-octane drill. The team in possession must move the ball quickly and catch their rivals off-guard with a counter attack.
An accurate pass from one player drew applause from the small number of spectators, but left Mayer shaking his head; the player used the outside of his boot, a fl ashy yet low-percentage technique that shouldn't be encouraged.
Mayer, an English Football Association licensed coach educator, is part of a team in Manchester preparing 57 Chinese soccer coaches for the FA Level-2 and Level-3 coaching qualification.
The drill is part of a 12-week program led by the Manchester Football Association and the University of Manchester with support from the Chinese Consulate.
"The coaches are going through a big learning process," said Mayer, who played for Bolton Wanderers and Wigan Athletic. "We're four weeks in and we are starting to see them integrate what they have learned into their own coaching."
The course, one of three scheduled for this year, is a key part of China's strategy to transform itself into a world soccer powerhouse.
China has drawn up a 50-point plan for the domestic development of the sport, including a drive to increase the number of qualified coaches. The aim is to host and one day win the FIFA World Cup.
"It's important for China to recognize the steps they've got to take to achieve what President Xi Jinping wants to achieve," said Colin Bridgford, chief executive of the Manchester Football Association. "Clearly, having a World Cup in China is on the agenda. If they can't find what they need within their own country, they are more than happy to use everybody else's experience."
The course delivers a qualification to coach at semi-professional and academy level in the UK. The FA will send a delegation to China next year to assess the coaches in live games.
Deng Shijun, the group coordinator, said: "We have had excellent lecturers for each class, and have benefited greatly from the general training."
Bridgford said Manchester, home of two Premier League clubs, is a perfect location for the coaching program.
The trainees have already had private tours of Manchester United and Manchester City's training grounds and stadiums, and attended a match between Salford City and Manchester United.
In August, they will travel to London's Wembley Stadium to watch the Community Shield match between Chelsea and Arsenal. Later that month they'll be in the home stands when Manchester City hosts Everton at the Etihad Stadium.