Experts reap farming know-how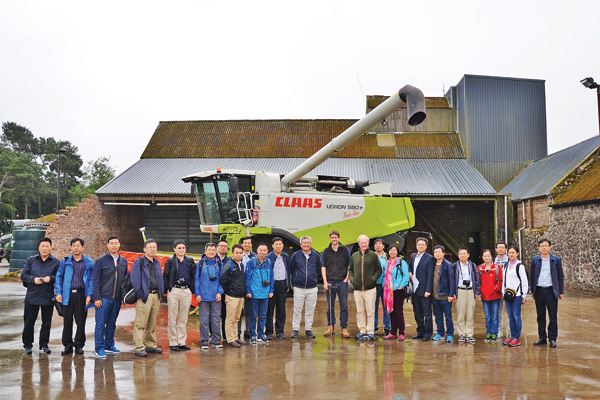 Chinese agricultural experts visit a farm in Edinburgh during their UK study trip to learn about best practices.[Photo provided to China Daily]
China is studying Britain's best agricultural practices as it strives to achieve its structural shift toward sustainable agricultural development and mitigate climate change.
A group of around 20 Chinese scientists sponsored by the Ministry of Agriculture begins a weeklong course in the UK on Monday that will include lectures and farm visits aimed at sharing knowledge on biodiversity protection, conservation agriculture, and agricultural waste recycling.
In May, Beijing announced new policies to increase agricultural waste recycling by 2020, through subsidies and the creation of recycling infrastructure.
Liu Jie, head of the Rural Energy Institute at the Heilongjiang Academy of Agricultural Sciences, is a member of the Chinese delegation.
"The training comes at an opportune time," Liu said. "China's agricultural sector is now at a turning point because we have already overexploited our agricultural resources. We must seek change and develop this sector's sustainably."
According to Liu, China's current pace of agricultural development is leading to problems with water and soil fertility.
"The UK's technology and practices … can be directly applied to address China's challenges," said Liu.
The training was arranged by the China-UK Sustainable Agriculture Innovation Network, an academic alliance established in 2008 to support bilateral agricultural collaboration, with support from the Chinese Ministry of Agriculture and the UK's Department for Environment, Food and Rural Affairs.
Several universities and professional agricultural bodies are involved in providing the training.
Lu Yuelai, head of secretariat at the China-UK Sustainable Agriculture Innovation Network, said the UK can offer China tips on developing sustainable agriculture because it made the same journey in the 1970s and 1980s.
For instance, the UK has managed to use 30 percent less nitrogen fertilizer on its crops and grasses during the past 30 years. China unveiled a plan in 2015 to realize zero growth in fertilizer use by 2020.
"We hope the training session content will be translated into actual changes in China through more targeted policy changes, the use and development of related technology in China, and the adoption of sustainable practices," Lu said. The closer collaboration comes at a time when the UK's agricultural sector is looking for new partners following its decision to leave the European Union.
John McDonagh, head of the University of East Anglia's School of International Development, anticipates even closer agricultural ties between the countries.