Anglo-Sino printmaking 'dialogue' leads to London gallery exhibition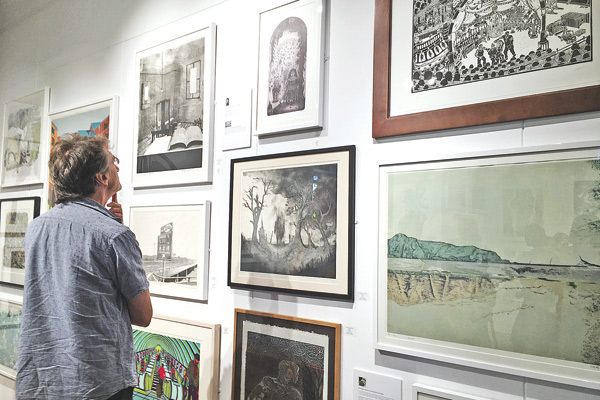 A visitor views arts works at the show. [Photo by Bo Leung/ China Daily]
An exhibition of contemporary works by 50 British and Chinese artists has opened at the Bankside Gallery in London.
The Jiangsu Dialogue shows the creative results after 25 artists from the UK's Royal Society of Painter-Printmakers were invited to respond to works by contemporary Chinese artists from Jiangsu.
"Jiangsu Art Museum came to us with a proposal to put on a show that was a dialogue," Michael Barratt, president of the society, said. "Members of the society would produce a work and their Chinese counterpart would respond with between one and five pieces of art."
As part of the process, the artists in each country only saw digital files of their counterparts' work ahead of the exhibition.
"Many had no idea of the scale they were working with," Barratt said. "They had an idea of the techniques, because as printmakers there is a language we all understand. So, the artists could see how the pieces of work were made, but not the texture and size."
Xu Huiquan, director of Jiangsu Art Museum, said the exhibition reflects the ancient art form of printing in the contemporary world. "Printmaking is an ancient art and the earliest printmaking work was found in China," Xu said.
"Chinese artists are now living in a free artistic environment, which means their works are originated from their own values and understandings," Xu added. "These values are formed according to individual living experiences and diverse beliefs will be reflected in the work."
Chen Yunmei, deputy general manager of Jiangsu Artall Culture Group, said the exhibition provides a positive platform for Chinese artists.
"The amount of art works we received was beyond expectation," said Chen. "It makes us realize that Chinese artists want and need these types of exhibitions to show of their work to an international audience."
The works of art featured in the exhibition include simple woodblock designs to a dark image of trees in a wood by Blaze Cyan and the Chinese interpretation by Jin Xiaoping on watermark wood print showing trees in a yellow background with birds.
The Jiangsu Dialogue exhibition runs at the gallery until Aug 6.