Turkey slams EU Parliament's decision to suspend accession talks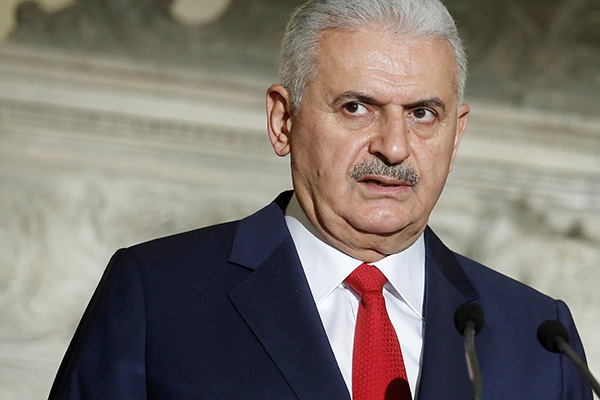 File photo shows Turkish Prime Minister Binali Yildirim speaks during a joint news conference with his Greek counterpart Alexis Tsipras after their meeting at the Maximos Mansion in Athens, Greece, June 19, 2017. [Photo/Agencies]
ANKARA - The Turkish Prime Minister Binali Yildirim said Thursday that the report calling on EU member states to suspend Turkey's accession talks was "null and void."
European Parliament on Thursday voted to accept a proposal of 2016 Commission Report, which is suggesting the suspension of accession talks with Turkey if constitutional changes endorsed in an April 16 referendum go ahead.
Ankara says the vote, which is not legally binding, is an attempt to "sabotage" the recent positivity surrounding talks between the EU bloc and Turkey.
Turkey cared about the decisions made by EU leaders, not about those made by the members of the European Parliament, Yildirim said in Ankara, state-run Anadolu Agency reported.
He also emphasized that Turkey was determined to be a member of the "EU family." However, he said, Ankara has alternatives, joining the bloc is not the country's sole option.
Omer Celik, Minister of EU Affairs, criticized the European Parliament's decision, describing it as "wrong call," while vowing that Turkey will return the report.
"Such demands can only be described as disrespect to the will of the Turkish nation," Celik said.
Turkish Foreign Ministry spokesman Huseyin Muftugolu said the decision was based on "false claims and allegations" and undermined the European Parliament's reputation.
The report, with voting 477 to 64 in favor, calls on member states to "formally suspend accession negotiations with Turkey without delay if the constitutional reform package is implemented without changes."
It is a reference to the collection of wide-ranging constitutional proposals approved by the Turkish electorate in April.
It also calls on EU institutions to suspend pre-accession funds if the negotiations are suspended.